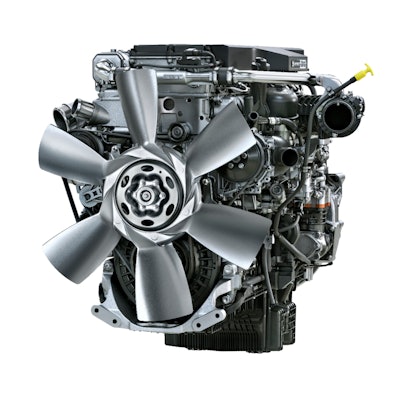 Detroit DD13 engine has new power ratings and features for its fifth generation that focus on efficiency, robustness and thermal management.
David Carson, senior vice president, sales and marketing for Daimler Trucks North America, noted that the DD13 Gen 5 was built on the proven Heavy-Duty Engine Platform from Detroit, yet the DD13 Gen 5 "builds on that legacy," in that it is 60 lbs. lighter than its predecessor due to its new aftertreatment system (ATS). It is available with the Freightliner Cascadia for on-highway applications and Western Star 49X trucks for vocational applications such as construction and municipal jobs.
Better packaging and more frame rail space ensures clear back of frame for Truck Equipment Manufacturers (TEMs) and upfitters. ThermoCoasting, which was initially introduced with the Detroit DD15 Gen 5 engine, prevents aftertreatment cool down during a driving regen to keep the system at its optimum temperature and significantly reduces the need for parked regenerations, a particularly useful feature for stop-and-go vocational/urban applications. ThermoCoasting also increases ATS performance and extends Diesel Particulate Filter (DPF) cleaning and maintenance intervals, Detroit said.  
Many of the key components in the DD13 Gen 5 engine have reduced packaging complexity and are more durable to achieve an even higher level of reliability compared to previous generations.  
With new vocational-focused ratings delivering up to 525 HP and 1850 lb-ft of torque, the DD13 Gen 5 becomes an option for wider range of jobsite applications including mixers, municipal, vacuum trucks, and oilfield. These ratings have additional power at the upper end of the RPM band and more torque at the low end compared to the current DD13.
Additionally, the DD13 Gen 5 has been strengthened to handle higher compression ratios, while its new swirl piston design improves combustion and efficiency, according to Detroit. A new asymmetric, fixed geometry turbocharger delivers rapid response while also using new thermal management strategies to keep heat in the aftertreatment and reduce the amount of system cool down. The new journal bearing turbocharger also features a Thermal Control Valve (TCV) that boosts regen performance, allowing for more completed regens at most engine speeds and loads, especially when utilizing a PTO for vocational applications.  
Carson said when Detroit updated its DD13 Gen 5 for on-highway applications, it applied many of the same solutions found in the recently revamped DD15 Gen 5 engine. The new ball bearing, fixed geometry turbocharger allows peak power and torque to be reached faster and delivers more fuel economy gains. Integrated Detroit Powertrain (IDP) ratings further slow engine RPMs while maintaining pulling power, reducing parasitic losses and wear for optimal fuel efficiency. The journal bearing turbocharger with the Thermal Control Valve (TCV) is also available without further downspeeding for on-highway customers.  
The DD13 Gen 5 engine comes standard with the Detroit Connect suite of connected vehicle services, which provides fleets with remote access to vehicle diagnostic data as well as fuel efficiency and safety performance insights. Through the Detroit Connect portal, fleet managers can access vehicle fault event and performance data to deepen their knowledge about overall fleet health. Access to the information can be customized so only information relevant to the user's role is visible.  
Included in Detroit Connect suite of connected vehicle solutions is Detroit Connect Virtual Technician remote diagnostics service, which lets fleet managers know in near-realtime when vehicles experience fault events, the severity of the fault, and when, where, and how to best resolve the issue. In addition to Virtual Technician, the Detroit Connect suite of connected vehicle services includes Detroit Connect Remote Updates, which uses secure, over-the-air programming and a cellular connection to change select engine parameter settings; and Detroit Connect Analytics, which translates fuel efficiency and safety performance data into actionable insights for optimizing truck and fleet performance. 
New warranty program for Detroit engines
Detroit DD13, DD15 and DD16 engines that have expired warranties are now eligible for the new Detroit OE Advantage extended warranty coverage DTNA. Detroit OE Advantage provides comprehensive coverage, similar to other Detroit extended warranties, with multiple plan options and terms of one year/125,000 miles or two years/250,000 miles.
Detroit said this product is different from existing aftermarket products because it is an easy to understand OEM coverage that offers flexibility on when it can be added without caps, deductibles, hidden fees, surcharges or aggregate limits. Detroit OE Advantage has a coverage maximum time distance of 7 years/750,000 miles.
"This product is truly unique, in that, it is a time-flexible, hassle free OEM coverage supported by the Freightliner and Western Star dealers and the Detroit service network," DTNA Product Manager Shawn Hinson added. 
Detroit OE Advantage is one of several warranty products offered by DTNA, including Extended Engine coverage EW1-4, Extended Next, and Truck Chassis coverage. Detroit has more than 700 authorized service locations in North America staffed by factory-trained technicians and experts.