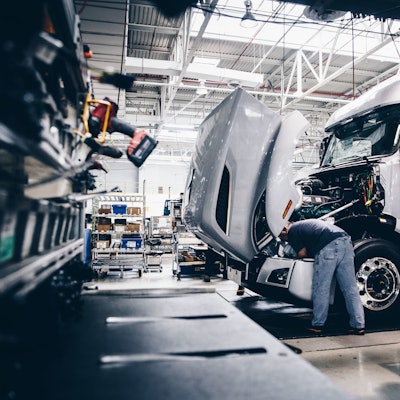 Trucking news and briefs for Tuesday, May 25, 2021:
UAW set to vote on new Volvo labor deal June 6
United Auto Workers (UAW) Local 2069 members at Volvo's New River Valley (NRV) truck assembly operations in Dublin, Virginia are expected to vote on a proposed six-year labor agreement Sunday, June 6.
Volvo Trucks North America and the UAW reached a tentative agreement last week that would cover approximately 2,900 employees at NRV. The labor group previously was scheduled to vote Wednesday, June 2 – two days following the Memorial Day holiday – but that was pushed back. 
Local members previously rejected a five-year proposal but remained on the job while details of the new deal were worked out. 
Contract negotiations started Feb. 8 and UAW Local 2069 workers went on strike Saturday, April 17, following the lapse of a 30-day extension to a five-year contract that expired March 15. The union strike ended April 30 after a two-week work stoppage when the parties reached a tentative agreement on a new five-year deal. 
The NRV plant employs more than 3,300 people, about 2,900 of whom are UAW members. The plant is in the midst of a $400 million investment for advanced technology upgrades, site expansion and preparation for future products, including the innovative Volvo VNR Electric truck. The plant has added 1,100 jobs since the last union agreement was implemented in 2016, and is on track to have a net increase of approximately 600 positions this year. 
Recalls issued for certain International, Peterbilt trucks
An issue that could cause a fuel leak has prompted Navistar to recall approximately 1,780 International trucks, according to National Highway Traffic Safety Administration documents.
The recall affects model year 2018-2019 International DuraStar and WorkStar models, 2019-2021 International HV and MV models, as well as 2019-2021 IC Bus RE models.
Navistar says the sealing washer in the affected trucks may not seat correctly in the pilot bore holes, allowing the high-pressure fuel rail assembly to leak.
Dealers will inspect the rail threads and replace the rail as necessary, for free. Owners may contact Navistar customer service at 1-800-448-7825. NHTSA's recall number is 21V-366.
Paccar is also recalling just 13 model year Peterbilt 348 and 579 model trucks in which the spring brake chamber may have been assembled with incorrect springs that were out of specification, which may cause the pressure plate to shift, potentially causing a loss of air pressure.
Dealers will replace the brake chambers for free. Owners may contact Paccar customer service at 1-940-591-4220 with recall number 21PBE. NHTSA's recall number is 21V-328.