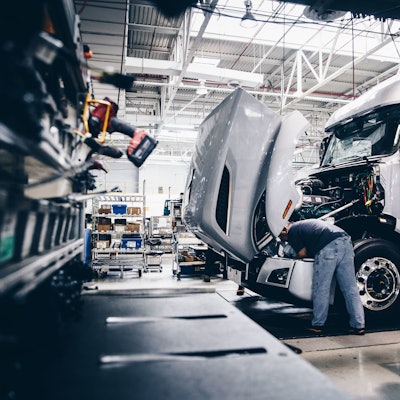 Volvo Trucks North America and the United Auto Workers union (UAW) Thursday evening reached a tentative labor agreement that would return nearly 3,000 employees from a strike that has dragged on for nearly a month at Volvo's New River Valley (NRV) plant in Dublin, Virginia.
The new six year proposal marks the third time the two sides have reached a potential agreement, but unlike the two previous deals – both of which were shot down by UAW Local 2069 membership in a landslide – union workers at Volvo's truck assembly facility will remain on the picket line until a ratification vote July 9. 
"UAW members and their families felt strongly about the need for financial stability gains in this contract and were willing to strike not once, but twice, to achieve those gains," said UAW President and Director of the UAW Heavy Truck Department, Ray Curry. "The elected bargaining team of the UAW Volvo Truck Council worked very hard to achieve these significant gains and they could not have achieved them without the solidarity of Local 2069 members."
Curry noted the new contract "reflects significant gains from the prior two tentative agreements."
UAW members, beginning Friday, will be briefed about contract terms by the bargaining team and UAW Region 8 International Representatives, as well as UAW Heavy Truck Department International Representative, ahead of next week's local vote. 
Contract negotiations started Feb. 8. UAW Local 2069 workers went on strike Saturday, April 17, following the lapse of a 30-day extension to a five-year contract that expired March 15. The union strike ended April 30 after a two-week work stoppage when the parties reached a tentative agreement on a new five-year deal. Local 2069 members rejected a proposed six-year labor agreement June 6 and returned to strike the following day. 
The NRV plant employs more than 3,300 people, about 2,900 of whom are UAW members. The plant is in the midst of a $400 million investment for advanced technology upgrades, site expansion and preparation for future products, including the innovative Volvo VNR Electric truck. The plant has added 1,100 jobs since the last union agreement was implemented in 2016, and is on track to have a net increase of approximately 600 positions this year.