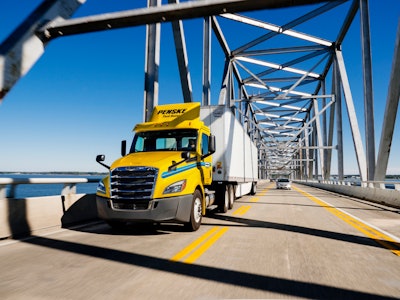 Penske Truck Leasing
Truck leases and rentals grew during a surge of ecommerce shopping last year and have continued score with fleets "desperate for trucks" amid rising demand and an ongoing microchip shortage that's hampered new truck production.
To help meet demand, Enterprise Truck Rental plans to open a new location in Macon, Ga. about 80 miles south of Atlanta near truck-heavy Interstate 75, according to Fox affiliate WGXA. A map on Enterprise's website shows eight truck rental locations in the Atlanta area and none in Macon.
Brisk truck and van rentals brought on by growing online sales combined with a shortage in new truck inventory have helped to counter losses incurred during the pandemic for Enterprise's car rental division.
"Our truck business has seen an uptick in demand for rentals due to the COVID-related rise of ecommerce and online shopping," said Enterprise Truck Rental Vice President Mike Pugh.
[Related: When truck leasing makes sense]
"Typically, we see a natural peak in demand for our business several times throughout the year, particularly in the summer and holiday seasons where demand doubles," Pugh added.
The chip shortage has also brought on additional business.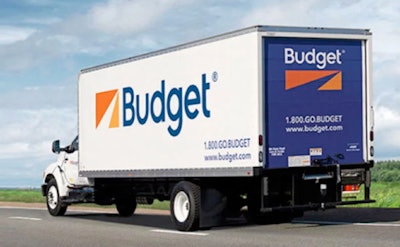 "In addition, the ongoing increased demand for new vehicles coupled with the automotive global chip shortage manufacturers are experiencing has led to an even larger spike in business as companies seeking alternative transportation options turn to truck rentals as a solution," Pugh continued.
Though new truck production has tanked, Enterprise feels prepared to meet increased demand.
"The automotive global chip shortage has certainly impacted the industry," Pugh said. "But we've taken a proactive and thoughtful approach with our fleet so that we can keep it fresh as we normally would and be prepared to meet increased demand from customers. We've been able to maintain vehicle availability to support our customers' ongoing transportation needs as they deal with peak business demand and the continued rise of ecommerce."
Avis Budget Group, which rents trucks and cars through separate divisions, said there's been "encouraging signs in the U.S." as Covid restrictions relax around the globe prompting more travel and commerce.
"Rapid, uneven global recovery from COVID has led to an evolving travel recovery and rental market that has no precedence," an Avis Budget Group representative said.
Some of Budget Truck Rental's most notable business of late is leaning more on personal use instead of commercial.
"Within the U.S. one of the busiest markets for truck rentals is California where people are often renting larger trucks to move," the Avis rep added.
[Related: Global chip shortage accelerates fleet plans for 3G migration]
As demand continues for more trucks and vans in a tight market, Penske Truck Leasing remains confident in meeting customer needs.
"We continue to help customers navigate these uncertain times using our rental assets, new build slots and ability to redeploy underutilized assets," said Jim Lager, senior vice president of sales. "We also can help with our supply chain and dedicated contract carriage products. We have dedicated build slots for the balance of 2021 and 2022."
Lager credits Penske's large, diverse inventory in helping them to navigate the pandemic and tight days ahead.
"Having the largest rental fleet in the industry gave us an advantage," he said. "The ability to redeploy or move assets from businesses that were suffering, to businesses that were thriving, was an advantage. Because of our strong partnerships we have better access to inventory."
Only so many trucks to go around
Strong partnerships or not, FTR Vice President Don Ake, a commercial vehicle analyst, is concerned that leasing and rental opportunities will dry up as demand remains strong for both new and used trucks.
Ritchie Bros. reported this week that "unprecedented demand" had driven used tractor-trailer prices up 30% year-over-year through its auction and marketplace venues.
[Related: Manufacturers call on Biden to fix chip shortage]
In its latest Commercial Truck Guidelines report released Thursday, J.D. Power reported that "Retail selling prices continue to accelerate. The newest available sleeper tractors are breaking records." A benchmark group of 4 to 6 year-old trucks brought in 85.8% more revenue for the first six months of 2021 versus the same time period in 2020.
"Fleets are desperate for more trucks," Ake said. "Right now the spot market prices are at record levels and that's partially the result of fleets not being able to get more trucks on the road. Fleet capacity utilization is super tight. The remedy is to get more trucks, but we can't get enough new trucks on the road fast enough."
The chip shortage has reduced new truck inventories 26% from 2019, Ake said. Though chip production is expected to increase "in the next few months," Ake said a healthy rebound will take time.
"Even if the chip constraint went away next week, they still wouldn't be able to build all the trucks they wanted to build," he said. "And we're seeing that on the trailer side too where they're not constrained by microprocessors but by a number of other factors like labor that's holding things back."