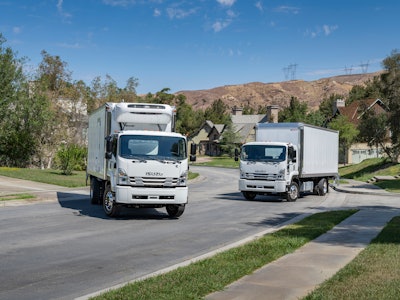 Isuzu Commercial Truck of America said Monday that production of its 2022 F-Series trucks has begun.
Powered by the Cummins B6.7 diesel engine, the F-Series offers models in both Class 6 and — new for Isuzu — Class 7.
The F-Series trucks are the first product to come to market from the Isuzu Cummins Powertrain Partnership (ICPP) between Isuzu Motors Limited and Cummins, Inc. These F-Series trucks are being assembled in Charlotte, Michigan.
Shaun Skinner, president of Isuzu Commercial Truck of America, said the company's foray into the Class 7 market, along with offering the Cummins B6.7 engine – and its 260 horsepower and 660 lb.-ft. of torque – "will create new opportunities for our dealers," he said. "We now offer a complete range of Class 3 through 5 gasoline-powered models and Class 4 through 7 diesel-powered trucks, by far the widest range of low cab forward trucks in the marketplace."
The Cummins B6.7 is mated to an automatic six-speed Allison RDS transmission (2550 Series with park pawl for FTR, 2500 Series with no park pawl for FVR).
All F-Series models are available in eight wheelbases (from 152 to 248 inches) accommodating bodies from 14 to 30 feet in length and offer a 50- or 100-gallon fuel tank based on wheelbase. Each can be equipped with air suspension. The trucks come in a Standard Cab configuration with three-across seating.
Three F-Series models are available: Class 6 FTR (25,950-lb. GVWR), Class 6 FVR Derate (25,950-lb. GVWR) and Class 7 FVR (33,000-lb. GVWR).