Trucking news and briefs for Friday, March 4, 2022:
New Mack LR Electric available for order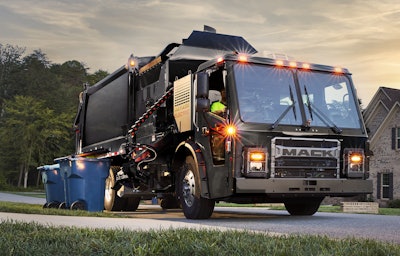 Mack Trucks announced Thursday that its next-generation Mack LR Electric battery-electric vehicle (BEV) is now available for order. 
The Class 8 Mack LR Electric refuse model offers customers a more sustainable option for refuse and recycling collection. Mack began serial production of the LR Electric in 2021 at its Lehigh Valley Operations facility in Macungie, Pennsylvania, where all Class 8 Mack vehicles for North America and export are assembled.
"Mack Trucks, the market leader in the refuse industry, is also a leader in e-mobility, and this is another step forward in our ongoing electrification journey," said Jonathan Randall, Mack Trucks senior vice president of sales and commercial operations. "Customer feedback about the Mack LR Electric has been extremely positive, and we look forward to continuing to advance electrification to fulfill the needs of our customers."
The next generation LR Electric features 42% more energy and a standard 376 kWh total battery capacity offering an increased range, Mack says. Featuring twin electric motors, the Mack LR Electric offers 448 continuous horsepower and 4,051 lb.-ft. of peak output torque from zero RPM. The LR Electric has a two-speed Mack Powershift transmission, Mack mRIDE suspension and Mack's proprietary S462R 46,000-pound rear axles.
Identifiable by a copper-colored Bulldog on the cab denoting the electric drivetrain, the LR Electric's vehicle propulsion is offered through four NMC (Nickel Manganese Cobalt Oxide) lithium-ion batteries that are charged though a 150 kW, SAE J1772-compliant charging system. The four batteries also provide all power for every onboard accessory, driven through 12V, 24V and 600V circuits. The two-stage regenerative braking system helps recapture energy from the hundreds of stops the vehicle makes each day with an increasing load.
Alabama-based flatbed carrier raises driver pay
Montgomery Transport, a flatbed carrier based in Birmingham, Alabama, has announced a 3 cents-per-mile driver pay increase, matching the 3 cpm raise drivers received last year — the largest pay increase in company history. The company also increased pay for its dedicated drivers. 
All standard qualified drivers received increase, effective March 1, in addition to other incentives already in place at Montgomery Transport, including an annual 1 cpm tenure pay increase, a pay-for-performance plan that gives drivers the opportunity to earn up to an additional $600 per four-week pay period, and tiered loyalty pay. The tiered loyalty pay rewards drivers who had tenure at a previous employer and allows them to earn up to an additional 3 cents per mile. 
"Our drivers work extremely hard and have persevered over these last couple of challenging years," said Rollins Montgomery, CEO of Montgomery Transport. "We were very proud last year to be able to provide them the largest pay increase in our company's history, and we're very excited to be matching that again this year."
Trucker Path reveals app's top-rated truck stops
Bert's Travel Plaza in Wellsville, Kansas, and the Pilot Travel Center in Mill Hall, Pennsylvania, were named the top independent and chain truck stops, respectively, by Trucker Path members.
Trucker Path on Thursday released its annual rankings of truck stops, which are based on ratings, review, feedback and votes by users of the app.
"When I found out we'd won, I was shocked because our store just opened on May 1, 2020," said Kim Jackson, general manager of Bert's Travel Plaza. "But we've worked so hard to make it a great place. Being family owned, especially having owners that also operate a trucking company, really helps. They put all their trucker knowledge into our facility. The owner really wanted a place for drivers, so it was built for the drivers. There's lots of concrete, bigger spots for driver comfort and a security guard at night to help drivers. We also have free parking, a wash bay, and we have a 24-hour cleaning crew for clean showers and restrooms."
Trucker Path's top five independent truck stops for 2021 are:
1st Place -- Bert's Travel Plaza -- Wellsville, Kansas
2nd Place -- Big Apple Travel Center -- Joplin, Missouri
3rd Place – Boise Stage Stop -- Boise, Idaho
4th Place -- Russell's Endee Truck and Travel Center -- Glenrio, New Mexico
5th Place -- Truck World Truck Stop -- Hubbard. Ohio
The top five chain truck stops, according to Trucker Path's rankings, are:
1st Place – Pilot Travel Center -- Mill Hall, Pennsylvania
2nd Place – Love's Travel Stop -- Bliss, Idaho
3rd Place – Rocky Mountain Truck Centers of Little America -- Green River, Wyoming
4th Place – TA Oakley -- Oakley, Kansas
5th Place – Love's Travel Stop -- Hamilton, Alabama