Trucking news and briefs for Wednesday, June 21, 2023:
Navistar reveals International SuperTruck II results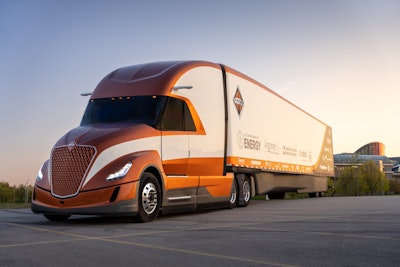 Navistar on Tuesday revealed the results of the International SuperTruck II, a project in partnership with the U.S. Department of Energy.
The project demonstrated 16 miles per gallon (MPG) fuel efficiency through hybridization and a 170% improvement in freight efficiency, among other advancements over the 2009 baseline vehicle, its International SuperTruck I.
It also proved innovative technical approaches to weight reduction from rolling resistance technologies, aerodynamic improvements and powertrain technologies designed to deliver premium freight efficiency to assist in reducing U.S. dependency on fossil fuels in the commercial vehicle sector, Navistar said.
"With co-funding by the DOE, Navistar engineers experimented with prospective technologies not currently available in the Class 8 truck market to accelerate the impact of sustainable mobility," said Russ Zukouski, chief engineer, Global Innovation and Principal Investigator for the Supertruck programs. "The team concentrated its design on high-voltage electrification, utilizing hybrid technology on a path toward full electrification that has the potential to be commercialized in fully electric vehicles and improve customers' total cost of ownership (TCO) and business operations."
[Related: Freightliner debuts second SuperTruck]
With a shared program goal of increasing Class 8 vehicle efficiency and reducing the U.S. dependance on fossil fuels, International SuperTruck II focused on the next generation of vehicle efficiency improvements through hybridization and aerodynamics. This resulted in a demonstration of 170% improvement in vehicle freight efficiency, 55% engine brake thermal efficiency, assessed TCO opportunities for individual technologies, and high-voltage electrification efforts modeling hybrid technologies that can be utilized for fully electric vehicles.
The International SuperTruck II was built as a hybrid vehicle featuring a combustion engine with high-voltage accessories and technologies, developed in partnership with Bosch. Engine improvements were made in key areas including combustion, friction, gas exchange, and airflow through the engine. A redesigned cylinder head with dual overhead cam engine and enhanced fuel system resulted in a 2% fuel economy improvement when compared to International SuperTruck I.
Aftertreatment system improvements included diesel exhausted fluid (DEF) dosing, improved mixing and lower restrictions, new selective catalytic reduction (SCR) formulations for high-NOx reduction and reduced cold-start activation time.
The project also highlighted connectivity with next-generation predictive cruise control, as well as leveraging technologies and information within the larger TRATON Group to explore vehicle-to-everything technologies to enhance safety and vehicle efficiencies.
[Related: Peterbilt showcases its new SuperTruck]
ATA: Truck tonnage increased in May, but still in recession territory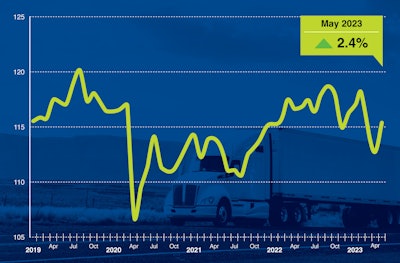 Trucks moved 2.4% more freight in May than in April after moving 1.7% less freight in April than in March, according to the American Trucking Associations' advanced seasonally adjusted (SA) For-Hire Truck Tonnage Index. In May, the index equaled 115.4 (2015=100) compared with 112.7 in April.
"Tonnage had a nice gain in May, but remains in recession territory," said ATA Chief Economist Bob Costello. "The 2.4% gain didn't erase the 4.5% total drop the previous two months. Additionally, tonnage continues to contract from year-earlier levels as retail sales remain soft, manufacturing production continues to fall from a year ago, and housing starts contract from 2022 levels."
Compared with May 2022, the SA index decreased 1.3%, which was the third straight year-over-year decrease. In April, the index was down 3.4% from a year earlier.
The not seasonally adjusted index, which represents the change in tonnage actually hauled by the fleets before any seasonal adjustment, equaled 120 in May – 10.1% above the April level (109). ATA's For-Hire Truck Tonnage Index is dominated by contract freight as opposed to spot market freight.
FMCSA's Truck Leasing Task Force holding first meeting next month
The Federal Motor Carrier Safety Administration's task force that was established to examine the terms, conditions, and equitability of common truck leasing arrangements will hold its first meeting next month.
On July 11 from 10 a.m. to 3:30 p.m. Eastern, FMCSA's Truck Leasing Task Force (TLTF) will meet virtually to essentially take care of some housekeeping items on the agenda and begin discussions about topics required by Congress.
On the agenda for the meeting is:
An ethics briefing for members
A discussion of ground rules for meetings (including logistics and meeting etiquette)
A review of Bipartisan Infrastructure Law requirements for topics/issues the TLTF must discuss
A discussion of the schedule for future meetings (virtual and hybrid, possibly), data needs/requests to support deliberations, guest presenters, etc.
Initial deliberations and discussion on the required list of BIL items
The meeting will be open to the public virtually. Advance registration is required and will open on this site in advance of the meeting.
Oral comments from the public will be heard during designated comment periods at the discretion of the TLTF chair and Designated Federal Officer. Speakers are requested to submit a written copy of their remarks for inclusion in the meeting records and for circulation to TLTF members.
The BIL established the TLTF to cover these areas related to truck leasing arrangements, including:
Exploring predatory truck leasing arrangements in coordination with DOL and the Consumer Financial Protection Bureau
Evaluating common truck lease agreements and their terms, identifying and reviewing those that are potentially inequitable in the motor carrier industry
Reviewing agreements available to drayage drivers at ports
Studying the impact of truck leasing agreements on the net compensation of truck drivers
Examining truck leasing arrangements and financing arrangements among motor carriers, entry-level drivers, driver training providers and others involved in the industry
Assessing resources that assist truck drivers in reviewing the financial impacts of leasing agreements
[Related: FMCSA forms task force to review driver lease agreements]
Southeastern Freight Lines awards two drivers for 50 years of safe driving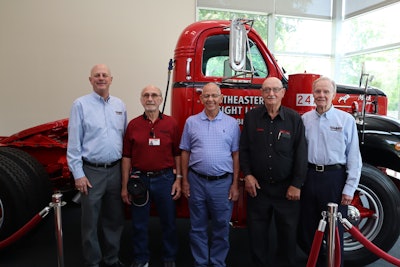 Southeastern Freight Lines (CCJ Top 250, No. 36) recognized two drivers – Larry Spinks and Michael Crapps – for 50 years of safe driving during the company's annual Safety and Service Awards.
The drivers' safety records are an accomplishment that puts them in an elite class, the company said. The duo joins SEFL pickup and delivery driver Malcolm Bryant as the only three Southeastern drivers to reach this threshold of safety in the company's history.
"Out of the 3.5 million truck drivers on the road today, Larry and Michael have made the short list of drivers across the country who have successfully accomplished this rare milestone," said Southeastern President Tobin Cassels. "They both not only embody Southeastern's safety culture, but through their years of hard work and dedication, serve as an example to the entire trucking industry on what it means to lead with safety in mind."
Spinks, a pickup and delivery driver at the company's Atlanta service center, started his career in trucking by pulling commissary loads with a tractor and trailer for the Army. He joined Southeastern's pickup and delivery team at the age of 21 and has remained a fierce advocate for the company's mission to meet and exceed the needs of every customer.
Crapps, a linehaul driver at the Columbia, South Carolina, service center, knew he wanted to pursue truck driving as a profession from the start. He joined the Southeastern team in 1973 as a pickup and delivery driver and transitioned into his current role in 1994. In 2010, he was recognized as Southeastern's Regional Linehaul Driver of the Year and was awarded Driver of the Month by the South Carolina Trucking Association in January 2012.
PGT opens new driver training facility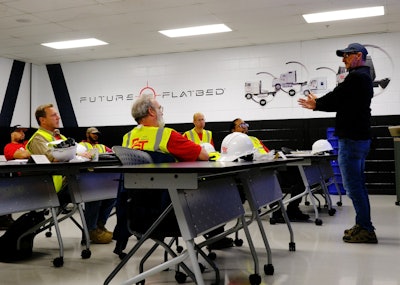 PGT Trucking (No. 93) has opened its new truck driver training center in Blairsville, Pennsylvania.
This expanded facility has been designed to equip incoming drivers with the necessary skills, knowledge, and hands-on experience required to build safe and successful careers in transportation, the company said.
"With the growth of our organization, we needed a larger facility where we could develop our driver training programs," said Chris Cousins, PGT Trucking Director of Training. "The demand for skilled and qualified truck drivers has never been higher, and our new driver class sizes have been growing week over week. This new location has given us the opportunity to create an environment with advanced resources, expert instruction, and real-world training that closely mirrors the challenges drivers face on the road."
The new training center is located less than one mile from PGT's Blairsville Terminal.