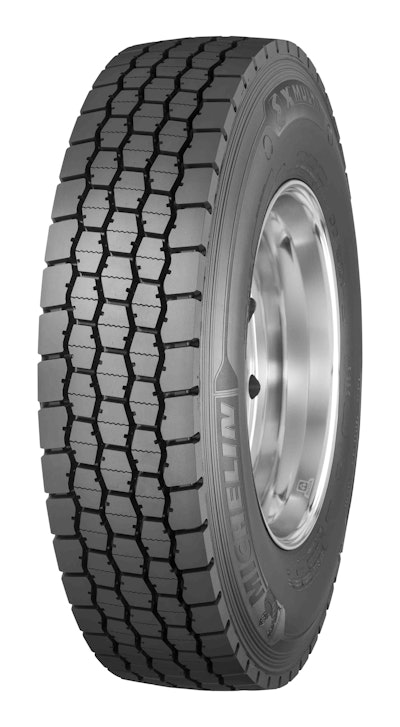 Michelin Americas Truck Tires launched its X Multi D Regional Drive Tire designed to provide premium mileage, scrub resistance and traction in regional, urban and light-construction and medium-duty applications.
User segments, according to the company, include less-than-truckload, pickup-and-delivery, food and beverage, energy, construction and other vocational segments. Key performance attributes include long-lasting tread life, all-weather traction, scrub resistance and a durable casing, all targeting enhanced driver satisfaction.
The X Multi D, which replaces Michelin's XDE M/S, is suited for high-torque applications and is designed to deliver long even wear through its advanced rubber compounding and tread pattern. Traction in all-weather conditions with less slippage is attributable to the tread's biting edges provided by full-depth matrix siping. Pass-through open shoulder grooves allow for quicker evacuation of material such as water, mud, snow and slush, providing an optimized contact patch.
The company's tread regeneration technology facilitates long tread life through co-extruded rubber compounding developed for scrub resistance and high mileage, as well as tear drop grooves at the bottom of the siping that help prevent torque cracking while decreasing heel-toe wear. Casing durability is provided by a cooler running rubber compound at the belt package; the company's TW6 Ozone Shield, a double-treated casing to help resist the onset of ozone damage and weathering; and a full-width protector ply that guards against penetration and increases uptime.
The tire has a 28/32nd tread depth and is available in sizes 11R22.5 in both Load Ranges G and H; 11R24.5 in Load Range H; and 275/80R22.5 in Load Range G. Two more sizes are planned.
The X Multi D is backed by Michelin's Performance Guarantee: if the tire does not meet the fleet's expectations for mileage, traction and driver satisfaction, the company will reimburse any cost difference for a competitive drive tire. The company may request the tires to be returned in an effort to study performance issues and better determine the root cause of any dissatisfaction.
Adam Murphy, vice president of marketing for Michelin Americas Truck Tires, said the company also is developing an X Multi D retread with comparable performance.