Fleets, email your new hires, promotions, employee certifications and/or accomplishments to jasoncannon@randallreilly.com.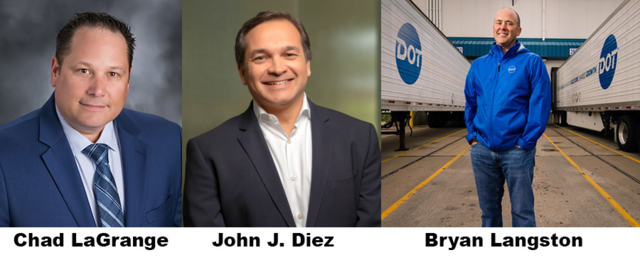 A round up of trucking's people news and headline makers for the week of May 16.
CRST names Chief Commercial Officer
CRST (CCJ Top 250, No. 20) has named Chad LaGrange its chief commercial officer.
Prior to joining CRST, LaGrange most recently served as Vice President of Sales, Marketing and Business Development for Collins Aerospace, where he was responsible for global sales, marketing and new business development for the Avionics Business Unit. During his tenure he held positions of increasing responsibility in Commercial and Government Systems businesses, including Sr. Director of Sales for the Business and Regional Jet market, Sr. Director of Global Customer and Product Support and Sr. Director of Military Avionics and Helicopters. Prior to joining Collins, LaGrange was in the U.S. NAVY as an Airman.
"He has a career full of building teams and delivering record breaking business growth by leveraging marketing analytics and the talent of his teams," said CRST CEO Hugh Ekberg. "We are thrilled to have an executive of Chad's caliber join our leadership team and we look forward to the value he will bring to our customers."
Ryder appoints new CFO
Ryder System (No. 13) has appointed John J. Diez executive vice president and chief financial officer (CFO). He succeeds Scott T. Parker, who is leaving the company.
Diez, who most recently served as President of Ryder's Fleet Management Solutions (FMS) business, will oversee all of Ryder's financial management functions including finance and accounting, treasury, tax, audit, corporate strategy and investor relations.
As part of the change, Tom Havens, a 28-year veteran of Ryder who has served as senior vice president and global chief of operations for the FMS business since 2012, has been named president of Ryder's FMS business unit. With this promotion, Mr. Havens joins Ryder's executive leadership team and reports to Ryder Chairman and Chief Executive Officer Robert E. Sanchez.
Dot Transportation names new president
Dot Transportation, Inc. (DTI), North America's largest food industry redistributor, has appointed Bryan Langston its next president. Langston most recently served as Dot Foods vice president of warehousing and takes over for Paul Mugerditchian, who is stepping into an advisory role.
"Safety and staffing will dominate our time in 2021, as the DTI team returns to full speed during the pandemic recovery and beyond," Langston said. "We are growing our driver workforce by more than 10% across the country. This is an excellent time for drivers to come work with us. Our culture and commitment to the driver is second to none, and we want drivers to see Dot as a career not a job and hope they take full advantage of our strong benefits and pay packages."
TIA installs new leadership
Third-party logistics (3PL) group Transportation Intermediaries Association (TIA) installed its new leadership team at its 2021 Capital Ideas Conference.
At-Large members of the TIA Board, who will each serve a three-year term expiring in 2024, include Liz Wayne, President & Owner of Able Transport Solutions; Omar Singh, President of Surge Transportation; Dave Menzel, President & COO of Echo Global Logistics; and Erin Van Zeeland, Group SVP & General Manager of Logistics Services at Schneider National.
Mike Riccio, CTB, Chief Marketing Officer of Leonard's Express, was elevated to the position of Chairman of the TIA Board of Directors, while Brian Evans, CTB, President of L&L Freight Services, became the Board's Immediate-Past Chairman.