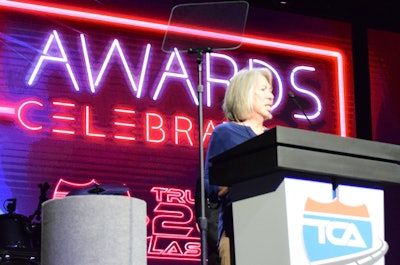 Todd Dills
I am constantly in awe of the resiliency of the trucking industry. #TruckloadStrong is becoming a familiar refrain in the halls of the Truckload Carriers Association, and it reverberated throughout last month's Annual Convention, Truckload 2021: Las Vegas.
While the sun was up, attendees focused on their professional development and business improvement through listening to educational sessions, inspirational speakers, and panel discussions with some of the top minds in trucking, as well as dedicated time to learning about the latest products in the exhibit hall. But you know how the saying goes: "Work hard, play hard." After many hours of education and networking, the evening activities allowed all of us to celebrate our industry's successes over the last year and single out those who are carrying the torch in advancing our industry.
[Related: Two fleets named TCA's Best Fleets to Drive For]
These successes were perhaps never more apparent than during Tuesday night's Closing Banquet, where the winners of the 2020 Driver of the Year and Fleet Safety Awards were revealed to an amped-up crowd. The safety of our people and our nation's roadways has always been the top priority for this industry, so it was incredible to see the representation from the 19 company finalists across six different mileage categories cross the stage and be recognized for being some of the best in the business. A special congratulations to our Grand Prize winners; FTC Transportation, Inc. of Oklahoma City, Oklahoma; and Bison Transport of Winnipeg, Manitoba.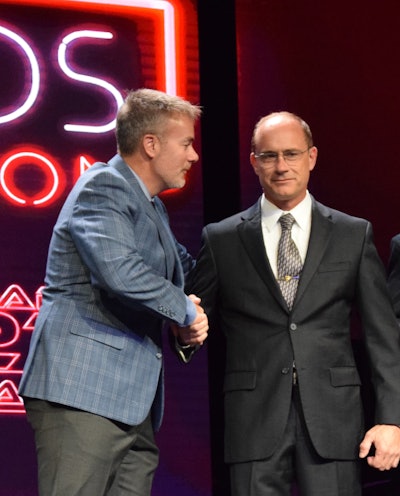 More than any other year in recent memory, the Driver of the Year Contests held such a special meaning against the backdrop of a pandemic that has seen our driver's get the recognition as the essential workers we always knew they were. During the banquet, video interviews of each of our finalists were played on the big screens to give our audience an introduction to these incredible drivers: Glen Horack, an owner-operator leased to Prime, Inc.; Douglas Schildgen, an owner-operator leased to Warren Transport, Inc.; Bryan Smith, an owner-operator leased to Tucker Freight Lines; Dennis Cravener with Givens Transportation; and Betty Aragon with Wilson Logistics, Inc.
The pride that this ballroom full of executives felt when seeing the incredible drivers in our industry get recognized was palpable. The crowd erupted when Betty quipped about how she felt when entering this industry as a woman decades ago to now sharing the stage and being recognized as one of the nation's top drivers.
Other moments elicited everything from tears to laughter as we heard drivers recount not just stories from the road and how they felt the "essential" moniker had impacted their daily lives, but also the more mundane stories of supportive families back home and personal anecdotes of community involvement. I truly cannot say enough how impressive all of our finalists are and what an honor it was to share the stage with them that night.
Ultimately though, someone had to take the Grand Prize for each of the Company Driver and Owner Operator of the Year Contests and I am delighted to congratulate both Betty Aragon and Bryan Smith, respectively, on taking home the prize and $25,000.
Betty Aragon is the exception to several rules. She was a single mom with two sons when she started driving at the age of 30. She retired from trucking at the age of 65, only to resume her driving career because she missed trucking. As of now, at age 74, she has logged more than 44 years on the road, and has no plan to stop driving anytime soon.
"I remember when we brought Betty in, and she's been a jewel ever since," said Wilson Logistics' Founder and CEO Darrel Wilson. "My whole family loves Betty. My children. My wife. She's part of the family. She's a genuine person that always puts people first."
Bryan Smith has been hauling in some form or fashion with Tucker Freight Lines (formerly Art Pape Transfer) for nearly 29 of his 31 years in trucking. Aside from his list of accomplishments both on and off the road, the 2020 contest marks his fifth time being recognized as a Driver of the Year finalist.
"Bryan is an excellent example for all drivers and the type of driver that should be recognized if our industry hopes to change its image," said Tucker Freight Lines, Inc.'s President AJ Tucker. "He has established balance in his life most truck drivers would envy. When on the road, Bryan exhibits the highest degree of professionalism and courteousness. There is not a better choice for Owner Operator of the Year than Bryan Smith."
Congratulations again to all our driver finalists. We thank you for being such an exemplary representation of our industry. Also, a special thanks to Love's Travel Stops and Cummins, Inc. whose generous sponsorship of the contests allow us to grant $25,000 to each of the overall winners, as well as $2,500 to each of the deserving runners-up.
Do you know of a deserving driver? Nominate him or her by Monday, Oct. 25. We look forward to meeting your drivers.
Jim Ward is president of D.M. Bowman, a 382-truck fleet based in Williamsport, Maryland. Under his direction, the company has transitioned from truckload carrier to a full-service transportation company, offering its customers dedicated fleet services, short haul, linehaul, brokerage, logistics and warehousing for dry van, flatbed, bulk and specialty services. Ward is the 2021-2022 chairman of the Truckload Carriers Association.