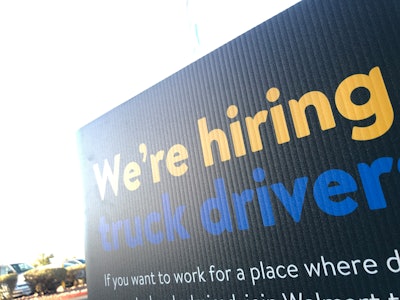 Register today for "Finding and Keeping Drivers in a Demand-Driven Job Market" webinar
Executives from three fleets share the driver recruiting and retention strategies that have propelled their companies to become some of the industry's best, and how they plan to stay there. This complimentary CCJ webinar is sponsored by Bestpass.
The search for qualified drivers is a two-sided coin: there's finding them, and there's keeping them.
Whether it's the result of a driver shortage or high turnover, many fleets find themselves in a similar (and familiar) position: on a perpetual hunt for more truck drivers.
CCJ, in partnership with Bestpass, will bring together experts from three of trucking's top fleets to discuss "Finding and keeping drivers in a demand-driven job market"; a market where the number of fleets needing good drivers grossly outnumbers the total number of available labor force.
This complimentary hour-long webinar, which will include a live Q&A with the panelists, will be held Thursday, Aug. 11 at 2PM Central Time. Register here.
The panelists will touch on topics that include pay, evolving compensation plans, apprenticeships and more.
Registrants will hear from:
Tim Norlin, vice president of driver employment, Roehl Transport
Norlin has more than three decades of experience in the transportation industry and he has held a variety of positions in operations, sales, safety, driver training and development and driver recruiting. He is a member of the Wisconsin Motor Carriers Association where he has served as a past board member and was recently Chairman of the Legislative Committee. He is also a member of the Commercial Vehicle Training Alliance and serves on the client advisory boards of a few industry consumer reporting agencies. Norlin is a graduate of the Ivy College of Business at Iowa State University with a BBA in Transportation and Logistics. Roel Transport is a three-time designee as one of the Top Companies For Women to Work for in Transportation, as recognized by Women in Trucking, and the only four-time winner of ATA's President's Trophy.
Tim Chrulski, chief operating officer, Garner Trucking
Chrulski has more than 24 years of experience in the transportation industry, having begun his career as a company driver and transitioning to roles in recruiting and operations. He also serves on a national level as a member of several committees within the American Trucking Association, and as a board member and chairman of the Membership Committee for the Truckload Carriers Association. Chrulski is currently the 2022-2023 board president of the Toledo Trucking Association. Garner Trucking was named a 2022 Best Fleet to Drive For in the small carrier division by TCA.
Geoff Topping, vice president of people and culture, Challenger Motor Freight
Topping has been in the trucking industry for over 25 years. He started his career as a driver and has since held positions in operations, sales, recruiting and human resources. He has also served Industry associations such as the Truck Training Schools of Ontario where he acted as the Chair of the Carrier committee and is currently the co-chair of the Recruiting, Retention and HR committee at TCA as well as a Commissioner for the Niagara Bridge Commission. In 2018 Topping was awarded the HR Leader of the year by Trucking HR Canada and is 2017 was also recognized as the HR Innovator. Challenger Motor Freight was named a 2022 Best Fleet to Drive For in the large carrier division by TCA.