Trucking news and briefs for Monday, Aug. 22, 2022:
Pride Transport raises driver pay
Salt Lake City-based refrigerated carrier Pride Transport (CCJ Top 250, No. 158) is increasing pay for its drivers.
The new pay range for solo over-the-road drivers at Pride Transport is now 57 cents per mile to 75 cents per mile. A $10,000 sign-on bonus is paid at a rate of $100 per week during the first two years of employment.
With this pay increase, the company said it anticipates that its average driver salary will be $81,000 annually.
"Our drivers truly are what makes Pride Transport special. Not only are they the backbone of our company, but our country" said Pride Transport President Jay England, son of company founder Jeff England. "That's why we are thrilled to announce this fleet-wide pay increase. The increased CPM combined with a 20% 401k match, productivity, and fuel incentive, and a $10,000 sign-on bonus will ensure that truck drivers who 'Drive with Pride' get the high-paying careers that they deserve."
Specialized services fleet adds temperature-controlled shuttles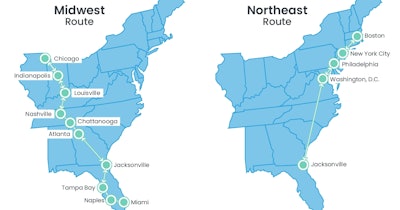 In response to increased demand for its specialized delivery services, William C. Huff Companies, based in Naples, Florida, has added bi-monthly scheduled temperature-controlled shuttles to Chicago and other locations in North America. The first shuttle runs are set to begin next month.
"There are 1,500 people per day moving to southwest Florida," said owner and CEO Jim Henderson. "Many families and clients have art, wine and other invaluable items that simply need to stay in a temperature and climate-controlled environment. We are extremely proud that we were able to make the investment in trucks and staff, to fulfill this request for our loyal and wonderful clients."
The company said it uses the latest technology to create the specified climate conditions, reducing the chance for irreparable damage to cargo.
A statement from the company said its temperature-controlled trucks include large access entry for sensitive equipment and cargo, air-ride technology, 4,500 pound-rated lift gates, in-truck environmental condition tracking with verifications to support warranties, and reduced cargo insurance risk.