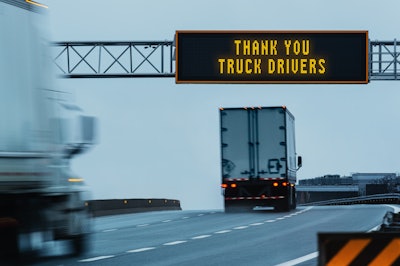 It's the holiday season – a season of giving.
When you're out shopping for your upcoming Thanksgiving meal, you're likely to see an option to donate canned goods. Your company may run a toy drive to donate gifts to less fortunate children at Christmas. Angel Trees pop up. Shoeboxes for Operation Christmas Child are packed. And soup kitchens are overrun with volunteers.
But there's one population that is often overlooked: truck drivers.
Those canned goods and toys, they're delivered by truckers. The Christmas gifts and holiday foods you buy from store shelves, they're delivered by truckers. While peak season for those deliveries comes ahead of the holidays as stores prepare for a bustle of consumers, the holiday season remains stressful for truckers: cargo theft increases; there's more traffic on the roads; and they're away from their families during those important days of the year.
The two major reasons behind a truck driver's depression are stress and time alone.
In America, 1.5% of the population suffers from depression, especially professional truckers with 13.6% suffering from some level of depression, according to Healthy Trucking of America. And that can increase significantly during the holidays. According to the American Psychological Association, 38% of people surveyed said their stress increased during the holiday season, which can lead to physical illness, depression, anxiety and substance misuse.
If your company volunteers or donates during the holidays, especially if you're a trucking company or a vendor that provides products and services to trucking companies, it's worth considering partnering with an organization that recognizes and helps truckers during the holidays.
Truckers have tons of opportunities to volunteer throughout the year, whether it's donating their time to deliver relief products as natural disasters occur or to help a pet find its way home through Operation Roger, a program in which a volunteer trucker can transport animals to reunite with their owners. At Christmastime, they can deliver wreaths to veterans' cemeteries as part of the Wreaths Across America program.
Meanwhile, there aren't a ton of options to help truckers specifically related to the holiday season.
Meals for 18 Wheels is a charity that focuses on feeding hot meals, particularly around Thanksgiving and Christmas, when many truckers are unable to be at home with their families. They also frequently assist truckers who cannot afford food for any reason. Truckers can contact Meals for 18 Wheels from anywhere in the country and a central coordinator will locate a nearby volunteer to deliver a home-cooked meal as soon as possible. Other times, volunteers will call or order online from a nearby restaurant or truck stop. The organization can be found on Facebook.
Here are some other ways to help:
• Take up monetary donations to support a trucking charity like Trucker Charity that locates and covers emergency housing and food for truckers who are stranded for any reason, or St. Christopher Truckers Relief Fund that raises money for truck drivers who suffer health problems leading to financial hardship.
• Take up monetary donations to purchase gift cards to truck stops and hand them out to truckers on Thanksgiving or Christmas or take them to a local trucking company to hand out to drivers.
• Write letters/cards of thanks and deliver them to a local trucking company to post at their terminal or disburse to individual drivers.
• Set up outside a truck stop and hand out homemade or purchased hot meals to truckers stopping by to refuel.
• Offer a simple "thank you" when you spot a trucker during your holiday travels.