Trucking news and briefs for Monday, June 26, 2023:
Drivers at 10 Roads Express in Kansas join Teamsters
Drivers at 10 Roads Express (
CCJ Top 250
, No. 39) in Edgerton and Colby, Kansas, have voted to join the Teamsters. Drivers in Edgerton will join Teamsters Local 41 in Kansas City, Missouri, and drivers in Colby will join Teamsters Local 696 in Topeka.
Teamsters Local 41 Organizer Roy Nixon said his group had been working on this campaign for the last four months. "These workers were determined from the start. They've long needed representation, and they fought hard to win it," he said "This is just the start of more organizing at this company here in Kansas as well as other locations across the country."
Drivers from both terminals are seeking better benefits and work rules.
[Related: 10 Roads Express names new CEO]
"We were determined to win. For too long, drivers have been forced to work under unfair conditions with no control over our stop times. When we are delayed, we don't get paid. We also need better health care," said Tony O'Neil, a driver at 10 Roads Express in Colby. "As Teamsters, we will put an end to the unfair work rules and win the wages and benefits we deserve."
The votes in Kansas are the first in a new national organizing effort by the Teamsters at 10 Roads Express. Also last week, NAPA Transportation (No. 175) drivers in Richmond, Virginia, have voted to unionize, joining Teamsters Local 322 and become first group of workers at the company to join the Teamsters.
"The Freight Division is committed to building union density at this company and growing our footprint throughout the entire freight industry," said John A. Murphy, Teamsters National Freight Director. "The victories in Kansas are part of a larger worker movement at 10 Roads Express.
Trucking conditions see improvement in April, but remain negative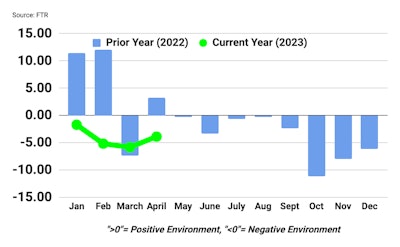 FTR's Trucking Conditions Index for April improved two points from March to a reading of -3.88 due to stronger freight volume and a somewhat less negative environment for financing costs, the firm reported.
Partially offsetting those improvements were weaker capacity utilization and a deceleration in fuel cost decreases. The outlook remains for negative readings through mid-2024.
"Our estimates and forecasts still show the truck freight market at close to its bottom, but the outlook remains quite weak," said Avery Vise, FTR's vice president of trucking. "For example, we see almost no improvement in capacity utilization into 2024, which would keep freight rates soft."
Vise noted, however, that a stronger automotive sector and more drivers leaving the industry could lead to better market conditions, "but trucking companies should not count on those developments," he said. "Freight demand might remain just strong enough to limit the number of drivers exiting the market, thereby keeping utilization weak."
XPO expands Salt Lake City facility
XPO (CCJ Top 250, No. 7) has completed an expansion of its Salt Lake City service center, adding 58 doors in the growing market.
The project also expands the service center's yard by approximately 170,000 square feet, creating a more efficient work environment for employees and allowing them to handle more freight and traffic with greater ease, the company said. "At XPO, we're focused on adding capacity where it's most effective in driving efficiency, growth and returns for our business," said Dave Bates, chief operating officer of XPO. "Our investment in the Salt Lake City facility will allow us not only to better serve our existing customers but will support new business growth in a market that's a major hub for freight."
The Salt Lake City service center currently employs more than 200 people. The company expects to hire additional dockworkers and driver sales representatives now that the expansion is complete.
New driving school open in Michigan
160 Driving Academy recently opened its newest location in Grand Rapids, Michigan. A ribbon cutting ceremony was held May 31.
The school's CDL training programs are technology-driven, the company said, with unique programs that focus on driver safety and personalized analytics to provide individual feedback to students.
The 160 Driving Academy is licensed and operates in 43 states, and each school is certified and licensed by the Federal Motor Carrier Safety Administration's Entry Level Driver Training Program.