Trucking news and briefs for Tuesday, Aug. 22, 2023:
ATA crowns champion truckers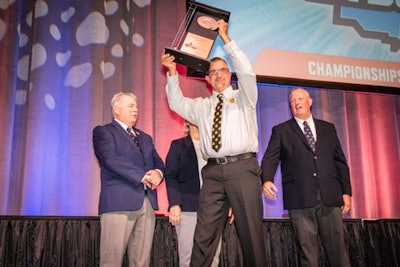 The American Trucking Associations on Saturday, Aug. 19, announced that James Gragg Wilson of Nevada, a truck driver for UPS (CCJ Top 250, No. 2), was named the Bendix Grand Champion of the 2023 National Truck Driving Championships. The competition took place Aug. 16-19 at the Greater Columbus Convention Center.
Known as the "Super Bowl of Safety," the annual event dates back to 1937. This year's competitors accumulated more than 643 million accident-free miles in their professional driving careers.
To clinch the esteemed title of 2023 Bendix Grand Champion, Wilson's driving accuracy and knowledge of truck safety was scored the highest of 418 state champion professional truck drivers from 49 states competing in all vehicle classes this week.
Wilson, who competed in the tank truck division, has been a professional truck driver for 37 years and has driven more than 2.5 million accident-free miles. He has previously won the Nevada State Championship 13 times in six different classes, and he has also won Grand Champion five times in Nevada. Wilson was also the 2019 Nevada Driver of the Year.
ATA also recognized Myron Means of Wyoming, a driver for Old Dominion Freight Line (No. 10), as the 2023 Rookie of the Year. Additionally, the team of drivers from Connecticut produced the best collective score and were honored as the top state delegation.
Champions from each of the nine vehicle classes were also announced. The full list of champions and top finishers is below:
Step Van:
Jerome De La Cruz, FedEx Express, Alaska
Gregory Long, FedEx Express, Maryland
Alex Lofgren, FedEx Express, Minnesota
Straight Truck:
David Coffel, FedEx Express, Arizona
William Colantuone, FedEx Express, Massachusetts
James Kohr, FedEx Express, New York
3-Axle:
Barry Kraemer, XPO, Wisconsin
Joseph Hicks, XPO, Rhode Island
Ritch Fundell, FedEx Freight, Illinois
4-Axle:
Martin McMahon, RIST Transport, New York
Bruce Quaal, ABF Freight System, Minnesota
Adam Heim, FedEx Freight, Idaho
5-Axle:
John Greene, FedEx Freight, Connecticut
James Quarles, Wal-Mart Transportation, South Carolina
Michael Martin, Wal-Mart Transportation
Flatbed:
Daryl Miller, The Cope Company Salt, Pennsylvania
Ernest Wagers, Old Dominion Freight Line, Kentucky
James Sowder, FedEx Freight, Tennessee
Tank Truck:
James "Gragg" Wilson, UPS, Nevada
Jason Imhoff, Wal-Mart Transportation, Ohio
Timothy Vogt, XPO, Georgia
Twins:
Robert Fair, FedEx Freight, New Hampshire
Jeffrey Langenhahn, XPO, Wisconsin
Michael Flippin, FedEx Freight, Colorado
Sleeper Berth:
Roland Bolduc, FedEx Express, Connecticut
Chris Moore, Wal-Mart Transportation, Georgia
Tyler Rogers, FedEx Freight, Colorado
Rookie of the Year:
Myron Means, Old Dominion Freight Line, Flatbed, Wyoming
State Team Award:
Connecticut
Illinois
Tennessee
Vehicle Condition Award:
Timothy Blair, FedEx Freight, 5-Axle, Tennessee
Highest Written Exam Award:
Michael Bills, FedEx Express, North Carolina
David Comings, FedEx Freight, North Dakota
David Mogler, FedEx Freight, Colorado
Michael Flippin, FedEx Freight, Colorado
Neill Darmstadter Professional Excellence Award:
Ina Daly, XPO Logistics, Arizona
Lifetime Volunteer Award:
Nikola officially recalls 209 battery-electric trucks
After announcing last week that a coolant leak inside a battery pack was the cause of an electric truck fire, Nikola is recalling 209 of its Tre BEV models as a result.
The company in its announcement last week noted that it was in the process of filing a voluntary recall with the National Highway Traffic Safety Administration for the trucks and placing a hold on new BEV sales. NHTSA documents, dated Aug. 18, make the recall official. The recall notes that leaking coolant can accumulate inside the battery pack, causing an electrical short and increasing the risk of fire.
Owners are advised to park outside and away from structures. As advised last week, the Main Battery Disconnect (MBD) switch should be left in the "ON" position at all times until the vehicle is repaired. The remedy is currently being developed.
Interim notification letters, informing owners of the safety risk, are expected to be mailed by Oct. 14. A second notice will be sent once the remedy becomes available.
Owners can contact Nikola customer service at 1-630-808-4531 with recall number 23VDC-0601. NHTSA's recall number is 23V-580.
[Related: Coolant leak the cause of 'suspicious' Nikola truck fire, BEV sales on hold]
EV maker Mullen rolls first Class 3 truck off assembly line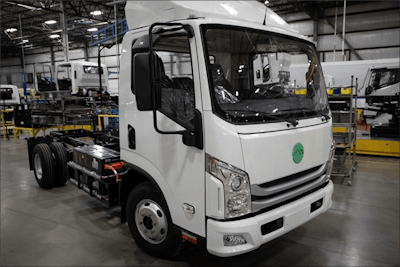 Mullen Automotive, an emerging electric vehicle manufacturer, on Aug. 21 announced its first production vehicle, the Mullen Three, a Class 3 EV truck, rolled off the line at Mullen's commercial vehicle assembly facility located in Tunica, Mississippi.
"We have been true to our commercial Class 3 vehicle production commitments and have now achieved a significant milestone with the first trucks rolling off the line," said David Michery, CEO and chairman of Mullen Automotive, Inc.
Mullen will be gradually ramping up production rate through the rest of 2023, the company said. Once full acceleration has been achieved, Class 3 production capacity at the Tunica facility is currently planned at 3,000 vehicles annually per shift. As EV adoption rates increase, Mullen plans to add a second shift for Class 3 production, which will increase capacity to 6,000 total vehicles per year.
During the ramp up in volume of the Mullen Three, the production testing and launch of the Mullen One, a Class 1 EV cargo van, will also take place in Tunica, achieving deliveries on customer orders for both commercial Class 1 and Class 3 vehicles by year end.
To date, the Company has received $79 million in purchase orders for the Mullen Three from Randy Marion Automotive Group and MGT Lease Company.
The Mullen Three has a MSRP starting at $68,500 and qualifies for $7,500 in federal tax incentives. Its chassis provides a clean top-of-rail for easy upfitting with bodies up to 14 feet long and over 5,800 pounds of payload.
Class 8 severe-duty trucks recalled by Autocar
Autocar is recalling certain 2023 ACX (Xpeditor) and DC (Legend) trucks in which the powertrain driveline center support bearing hardware may not have been properly secured. The recall affects approximately 605 units.
The recall states that an improperly secured powertrain driveline can detach from the vehicle and cause a loss of drive power, increasing the risk of a crash.
Dealers will inspect and secure or replace the powertrain driveline support bearing hardware, as necessary, free of charge. Owner notification letters are expected to be mailed Oct. 6. Owners can contact Autocar customer service at 1-888-218-3611 with recall numbers ACX-2309 and DC-2305. NHTSA's recall number is 23V-571.