Trucking news and briefs for Thursday, Sept. 28, 2023:
ATRI beginning research on challenges faced by women drivers
The American Transportation Research Institute (ATRI) is initiating research on the challenges facing women truck drivers, as well as barriers that discourage women from considering a career as a truck driver.
The comprehensive study will also identify strategies for overcoming industry issues faced by women.
Previous ATRI research has confirmed that women make up only 8.1% of all U.S. truck drivers, and only 2.7% of over-the-road truck drivers. In response, the ATRI Research Advisory Committee prioritized this new women-focused research initiative at its 2023 Annual Meeting.
Key components of the research will include:
National surveys and focus groups with women who are veteran truck drivers, new entrants, and women who are former truck drivers. In addition, the researchers will engage different groups of women to identify both issues and motivators for women considering careers in trucking.
Recognizing that certain fleets have substantially more women drivers than typical fleets, motor carriers will be surveyed and interviewed to identify best practices in recruiting and retaining women truck drivers. Additional outreach will focus on women executives at motor carriers in order to understand issues and opportunities beyond truck driving.
Collaborating with truck driver training schools to identify recruitment and training issues unique to women.
Research analyst Abbigail Huffman, who will lead the multi-faceted research for ATRI, invites industry stakeholders who would like to be involved in the research to contact her at [email protected].
[Related: Female trucker surveys divide proponents on pay and cab design]
Truck Leasing Task Force holding second meeting in October
The Federal Motor Carrier Safety Administration's Truck Leasing Task Force (TLTF) will hold its second meeting on Tuesday, Oct. 17. The meeting will be held virtually for its entirety, from 10 a.m. to 4:30 p.m. Eastern.
The TLTF will begin consideration a task titled "Common Truck Leasing Agreements Available to Drivers of Commercial Motor Vehicles and the Existence of Inequitable Leasing Agreements and Terms in the Motor Carrier Industry." For this and all topics considered by the committee, FMCSA will include presentations by agency experts and those in the field under discussion.
The full agenda for the meeting, not yet available, will be published on the TLTF website at least one week before the meeting.
FMCSA asks that those interested in attending the meeting register in advance at the TLTF website, which will be available here. Advance registration is required by Friday, Oct. 13.
The task force held its first meeting in July to essentially take care of some housekeeping items on the agenda and begin discussions about topics required by Congress.
[Related: FMCSA forms task force to review driver lease agreements]
Five rookie truckers named finalists for new truck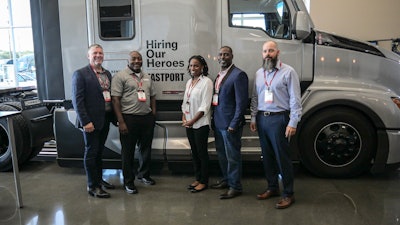 During a ceremony in Chillicothe, Ohio, five finalists have been named for the 8th annual "Transition Trucking: Driving for Excellence" award, dedicated to finding America's top rookie military veteran driver through a rigorous nomination, selection committee and public voting process.
The program, hosted by Fastport, Kenworth, and the U.S. Chamber of Commerce Foundation's Hiring Our Heroes initiative recognizes top drivers who have made the successful transition from active duty military to driving for a commercial fleet.
All 17 semi-finalists traveled to Columbus and Chillicothe, Ohio, to be recognized as the trucking industry's top emerging talent. During the trip, the semi-finalists visited the National Veterans Memorial and Museum in Columbus, appeared on the Dave Nemo Show with Jimmy Mac on Road Dog Trucking Radio live from the MHC RoadReady Center in Chillicothe, and received an in-depth 90-minute tour of the Kenworth Chillicothe manufacturing plant.
The 2023 finalists are:
Todd Kraus, U.S. Army, Werner Enterprises (CCJ Top 250, No. 13)
Brandon Meredith, U.S. Army, Slay Transport (No. 192)
Ondrae Meyers, U.S. Marines, CRST (No. 21)
Jessica White, U.S. Army, Stevens Transport (No. 52)
LaTravis Wilcox, U.S. Marines, Prime Inc. (No. 16)
In recognition of Kenworth's 100th anniversary, this year's award is the T680 Signature Edition truck, equipped with a 76-inch sleeper and the Paccar Powertrain featuring the Paccar MX-13 engine rated at 455 horsepower, PAccar TX-12 automated transmission and Paccar DX-40 tandem rear axles. The first runner-up will receive a $10,000 prize and the remaining finalists will receive $5,000 each.
"It was an honor to meet and recognize the 17 driver semi-finalists in Columbus and host them at our Kenworth Chillicothe manufacturing plant where the grand prize T680 Signature Edition truck was made," said Kyle Kimball, Kenworth director of marketing. "Kenworth is proud to participate in the Transition Trucking: Driving for Excellence program, and we look forward to awarding the T680 to this year's winner, a deserving veteran entering the trucking industry."
A popular vote will take place online from Nov. 1 until Veteran's Day, Nov. 11. The winner will be determined by a selection committee and announced on Dec. 15 at the U.S. Chamber of Commerce in Washington, D.C.
Shippers' conditions tumbled in July
FTR's Shippers Conditions Index (SCI) fell significantly in July to 1.6 from June's 7.9 reading, the firm reported on Sept. 26.
All components of the SCI were weaker in July than in June, but the most significant changes were stronger capacity utilization and higher fuel costs.
July market conditions for shippers were the least favorable in nearly a year resulting in the weakest SCI since October 2022. Fuel costs will be an even bigger hit to the August SCI.
"Stronger fuel costs were a driver of the Shippers Conditions Index to its lowest level in nearly a year," said Todd Tranausky, vice president of rail and intermodal at FTR. "With rising crude oil prices, it appears the stronger diesel prices are with the industry for the foreseeable future. This will limit how positive the SCI can be in future months and put it on a trajectory to hold near neutral unless fuel prices make another jump higher, in which case they could turn more sharply negative."
Fuel costs aside, gradually stronger freight volumes, utilization, and rates likely will soften conditions toward neutral by mid-2024.
[Related: Trucking conditions improved but remained negative in July]