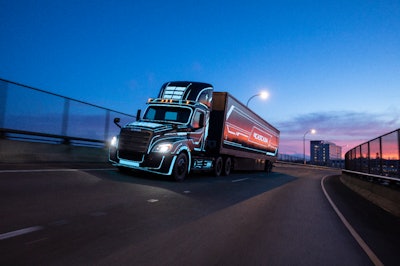 Freightliner's all-electric eCascadia and eM2 are now available for order, Daimler Trucks North America (DTNA) announced Tuesday. The company's first all-electric trucks are the longest-range commercial battery electric vehicles already in customer's hands in North America.
Revealed as a proof of concept in 2018 and swiftly progressed to a demonstration fleet with trucking customers running real freight in the real world, DTNA Senior Vice President of On-Highway Sales and Marketing Richard Howard said with the opening of the eCascadia and eM2's order books, Freightliner and DTNA expect to start production late next year.
Both models feature an integrated ownership approach that enables customers to select and specify the resources of an eConsulting team as an additional service – a team that can assist and advise on the holistic ecosystem needed to integrate battery electric vehicles into a fleet. DTNA added it is prepared to support the end-to-end process of fleet electrification via its Freightliner dealer network.
At start of production, both Freightliner battery electric models will come equipped with the all-new Detroit ePowertrain, the Detroit Assurance suite of safety systems, and telematics services enabled by Detroit Connect.
[Related: Detroit unveils ePowertrain for electric trucks]
Comprised of an eAxle design and available with a single or dual motor system, the Detroit ePowertrain offers up to 23,000 lb-ft of torque and features maximum range specifications in excess of 230 miles on a full charge for the medium-duty eM2 and 250 miles for the Class 8 eCascadia tractor.
Leading up to series production of the eCascadia and eM2, and in cooperation with the South Coast Air Quality Management District (South Coast AQMD) and the Bay Area Air Quality Management District (Bay Area AQMD) who financially supported pilot fleets, Freightliner has placed 38 trucks into operation with fleets covering a variety of applications, including drayage, regional and local pickup and delivery and food and beverage delivery.
Nearly 750,000 collective miles have been accumulated on the early Freightliner electric fleet to-date.
"These are the largest demonstrator electric fleets ever seen in the industry," Howard said, "and the valuable collaboration, feedback loop and cooperation with our many valued customers, has translated directly into a more versatile, more durable, and more reliable product packed with purposeful innovation to benefit them and their operations."