Trucking news and briefs for Monday, April 3, 2023:
Tesla Semi recalled with brake problem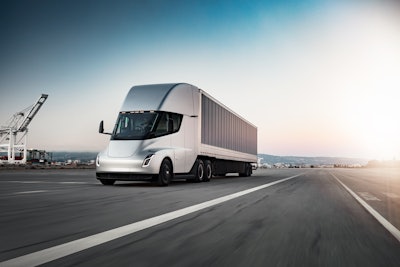 We still may not know exactly how many Tesla Semis have been built and delivered, but we know it's at least 35.
Tesla is recalling 35 of its all-electric Semi tractors to fix an issue with the parking brake.
The company says the electronic parking brake valve module (PVM) may fail to move into the park position when the parking brake is activated, increasing the likelihood of a rollaway and/or crash. Tesla service will replace the PVM free of charge. Owner notification letters are expected to be mailed May 23, 2023. Owners may contact Tesla customer service at 1-877-798-3752. Tesla's number for this recall is SB-23-33-001.
PepsiCo took delivery of the first production Semis Dec. 1, and during the company's third-quarter earnings call, Musk announced Tesla would produce 50,000 Semis a year starting in 2024.
National Road Safety Conference convenes in Seattle
More than 1,600 national, state and local traffic safety professionals gathered in Seattle this weekend for the annual Lifesavers Conference on Highway Safety Priorities, as traffic deaths in the U.S. reach levels not seen in two decades. The National Highway Traffic Safety Administration estimates that 42,915 people died in motor vehicle traffic crashes in 2021, the most recent year available, which is a 10.5% increase from the 38,824 deaths in 2020. Every indication is that the traffic safety problems that led to such a high toll have not abated.
The conference focuses on strategies for bringing fatality numbers down by sharing best practices and implementing programs that address serious and long-standing traffic safety problems such as speeding, impaired driving, seatbelt/restraint use and distraction. Attendees represent a cross section of traffic safety professionals including law enforcement, first responders, public health personnel, survivor advocates, transportation planners and engineers, auto and insurance industry leaders and local, tribal, and federal highway safety officials.
Nominees sought for truck parts retailer award
The nomination period for the 2023
Trucks, Parts, Service
Distributor of the Year Award is now open.
Trucks, Parts, Service
is a sister publication to
CCJ
.
Now in its 22nd year, the Distributor of the Year program is one of the aftermarket's most coveted awards. Finalists will be evaluated on business performance, business innovation, consistent employee and customer training, market expertise, commitment to customer solutions and more. Distributor of the Year is not a sales award. Businesses nominated for the award and selected as finalists will be evaluated using a carefully built internal TPS rubric that weights the capabilities of a business based on its size and resources.
You can make a nomination here.
Teamsters, ABF kickoff labor talks
Teamsters and ABF Freight (
CCJ
Top 250
, No. 18) last week officially opened bargaining for a new collective bargaining agreement to succeed the current five-year agreement that is set to expire on June 30.
The parties exchanged formal proposals on national language issues. Thereafter, the parties engaged in substantive dialogue and about their respective proposals. Bargaining for numerous supplemental agreements also started this week.
Teamsters National Freight Director John Murphy, who also serves as Co-Chair of the Teamsters National Freight Industry Negotiating Committee's (TNFINC), said he was pleased with the negotiating committee's work this week.
"Our committee is made up of representatives from numerous local unions from across the country. We also have numerous rank and file members on the committee," said Murphy. "The rank-and-file members have already proven themselves to be extremely valuable and they will no doubt have a very positive impact in negotiations."
The parties will next meet for negotiations the week of April 12.