Trucking news and briefs for Friday, June 9, 2023:
Schneider opens zero emission electric charging depot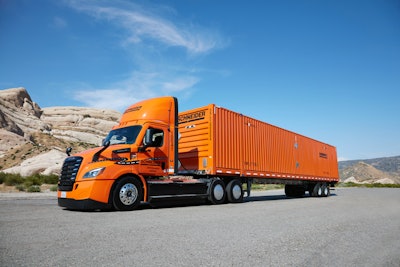 Schneider National (
CCJ
Top 250
, No. 9) this week completed an electric charging depot at its South El Monte Intermodal Operations Center in Southern California. The depot will power its battery electric truck (BET) fleet, which will include nearly 100 Freightliner eCascadias by year's end, making it one of North America's largest zero emission fleets.
The 4,900-square-foot state-of-the-art electric truck charging hub is over half the size of a football field, featuring 16 350 kW dual-corded dispensers, allowing the carrier to charge 32 trucks simultaneously. The eCascadias will be able to achieve an 80% charge within 90 minutes.
"Schneider decided to lead the way by building our own depot in South El Monte," said Schneider President and CEO Mark Rourke. "It was important to develop onsite charging because it is the most efficient solution to power our growing electric fleet. With the infrastructure deficiency, we found that we needed to collaborate with a wide array of experts to see our vision come to fruition."
Schneider's facility is centrally located within the metro Los Angeles area and adjacent to major highways with a high density of customers within a 50-mile radius. Already this year, Schneider has begun hauling deliveries for Frito-Lay North America and Goodyear using the new eCascadia fleet, supporting each companies' supply chain sustainability goals. The eCascadias have a range of approximately 220 miles.
The South El Monte site was funded through the Joint Electric Truck Scaling Initiative (JETSI), a project funded by state and local agencies to increase the number of zero emission heavy-duty trucks on the roads.
Schneider worked alongside Daimler Truck North America (DTNA) as the eCascadia evolved, piloting a truck for six months in 2019-2020 through Freightliner's Customer Experience fleet. Feedback from Schneider drivers and the equipment team led to the production of the BET found in the company's fleet today.
At present, the company has accepted delivery of approximately a third of its expected fleet. When fully operational, Schneider's 92 BETs will have the potential to avoid more than 81,000 pounds of carbon dioxide emissions per day, the equivalent of removing 2,400 gas-powered cars from the road. Each day these zero emission trucks will accelerate the company's progress toward its goal of reducing CO2 emission by 7.5% per mile by 2025 and a 60% per mile reduction by 2035.
Trappers Transport acquires Plett Trucking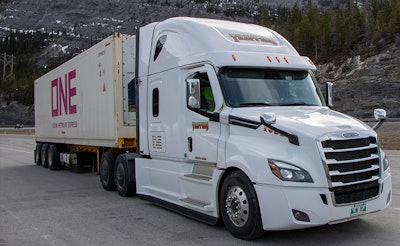 Trappers Transport has acquired Plett Trucking, expanding its service offerings and strengthening both cross-border and coast-to-coast operations. Both companies are based in Winnipeg, Canada. Financial terms of the transaction were not disclosed.
With Plett Trucking now part of its operations, Trappers Transport adds an additional 40 power units and 60 refrigerated trailers, equipped as tandem and tri-axle units and available in single-temp and multi-temp configurations. These assets bolster Trappers Transport's capabilities, allowing for more efficient and specialized refrigerated transport services.
Founded in 1968 as Landmark Transfer, Plett Trucking has become a nationwide refrigerated transportation specialist.
"Their strong track record of reliable refrigerated service and their extensive knowledge of the clients they serve, perfectly complement our existing operations and align with our long-term goals," said Trappers Transport CEO Dan Omeniuk. "By integrating both operations, we will be able to offer an expanded range of services and provide even greater value to our customers. Together, we will continue to provide an exceptional customer experience, deliver real-time load transparency, and adhere to the highest food safety and security standards."
Volvo Autonomous Solutions starts operations in Texas
Volvo Autonomous Solutions (V.A.S.) has opened an office in Fort Worth, Texas, dedicated to driving activities to set up its first autonomous freight corridors that will run from Dallas Forth Worth to El Paso and from Dallas to Houston.
To prepare for commercial launch, V.A.S. has also started to haul loads with trucks using drivers for key customers like DHL and Uber Freight to test aspects of the transport solution and establish frameworks and procedures for safe and reliable operations.
[Related: First carrier joins Volvo Autonomous Solutions reservation program]
"At Volvo Autonomous Solutions we believe the path to autonomy at scale is through reducing the friction and complications around ownership and operations for customers. This is why we have taken the decision to be the single interface to our customers and take full ownership of the elements required for commercial autonomous transport," said Nils Jaeger, President of Volvo Autonomous Solutions. "With the opening of our office in Texas and start of operational activities, we are building the foundations for a transport solution that will change the way we move goods on highways."
The Autonomous Transport Solutions (ATS) offered by V.A.S. includes hardware, software and services required to run autonomous transport operations. On highways, the solution is operated based on a hub-to-hub model where autonomous trucks take on the highway portion of the driving, operating all hours of the day and night between transfer hubs while human drivers complete local operations. The autonomous transport solution offered by V.A.S. is based on Transport as a Service (TaaS) and includes a vehicle purpose-built for autonomous driving, a virtual driver, required infrastructure, operations and uptime support as well as a cloud solution that controls the transport system and manages logistics flows.