Trucking news and briefs for Friday, July 14, 2023:
Ryder launches new mobile maintenance service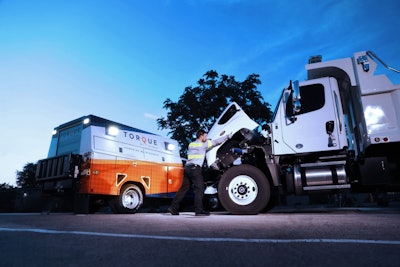 Ryder System announced this week it has launched Torque by Ryder, a new service offering retail mobile maintenance at a business's location with no long-term contract.
All services offered through Torque by Ryder are easily accessible and transacted via desktop or a mobile device to schedule, receive, track and pay for maintenance solutions.
Torque by Ryder provides a portfolio of maintenance offerings with its fleet of fully equipped mobile maintenance trucks and professionally trained technicians.
The retail mobile maintenance services offered through Torque by Ryder include preventive maintenance services to trucks, trailers, and liftgate applications, as well as maintenance for tires, lighting, brakes, A/C, exhaust, suspension, door, camera, electronic logging device, and collision avoidance systems.
Torque by Ryder is currently available in Georgia, Oklahoma, Florida, Texas, South Carolina, and North Carolina, with plans to expand into Virginia, Maryland, Kentucky, Indiana, Arkansas, and Tennessee over the next 12 months.
"Combining the convenience of mobile maintenance with the simplicity of a transactional model allows us to deliver a superior service to retail maintenance buyers," says Jordan Wagner, vice president and general manager at Torque by Ryder. "Torque by Ryder is the future of uptime for commercial fleets that do not want to commit to a long-term maintenance contract, while still receiving a service that is backed by Ryder."
Torque by Ryder, a first-of-its-kind retail maintenance solution, operates separately from Ryder's existing fleet maintenance locations and with a separate vehicle technician workforce, allowing for a transactional experience. In addition, Torque by Ryder is positioned to provide off-hours maintenance, minor repairs, and Federal DOT inspection services for fleets and trailers.
[Related: Ryder recognizes Drivers of the Year]
Bridgestone-Pilot partnership exceeding growth goals
Bridgestone Americas and Pilot Company announced recently they have surpassed the initial goas set for a service network for commercial fleets to use Bridgestone's advanced tire monitoring technology.
The partnership, announced last summer, had plans for an initial rollout at 200 Pilot and Flying J locations. Today, the service network is in place at more than 300 Pilot and Flying J travel centers. Pilot's extensive network of travel centers coupled with Bridgestone Fleet Care mobility solutions allows the two companies to provide more convenient, frequent and accessible fleet tire intelligence to as many customers as possible.
Following its July 2022 launch, trucking companies leveraging the network have reported significant business efficiencies and savings as a result of its real-time, data-driven insights.
"We are excited to see the ongoing success of this partnership with Pilot Company," said Josh Holland, Vice President, Dealer Development and Mobility Solutions Deployment (Commercial), Bridgestone Americas. "Through our expanded Bridgestone Fleet Care service network at Pilot and Flying J travel centers, fleets across the United States are beginning to experience the benefits of a connected network of tire-monitoring services that are supported by our Bridgestone Commercial Dealer Network (BCDN)."
Each router installed in the fuel canopies of select Pilot and Flying J travel centers is linked to Bridgestone Fleet Care's tire monitoring service and transmits real-time tire data in two minutes or less from trucks and buses to fleet managers. Bridgestone Fleet Care's technology allows fleet operators to proactively address specific tire issues and mitigate unplanned maintenance, helping to reduce downtime and improve driver safety. Fleets using the offering have access to critical data such as tire inflation pressure and temperature, enabling them to continually monitor the health of each tire throughout its lifecycle.
"In one year, we've surpassed our initial goal and are now able to offer this technology at over 300 of our travel centers, helping maximize coverage throughout the country to Fleet Care customers," said David Hughes, Senior Vice President of Sales at Pilot Company. "Fleet Care allows for new fleet and business efficiencies and helps keep the roads and highways safe for both professional drivers and passenger vehicles."
Musket opens new DEF terminal in Alabama
Musket Corp., the trading and logistics arm of the Love's Family of Companies, recently opened its 24th diesel exhaust fluid (DEF) terminal in Theodore, Alabama.
The DEF terminal has a dedicated start-up capacity of 2 million gallons of throughput per month. It will provide 24/7/365 access to DEF for its customers, including Love's Travel Stops in the Gulf region.
Musket's Theodore facility will support bulk DEF demand, as well as packaged goods ranging from 330-gallon IBCs to 2.5-gallon jugs. The company's DEF terminals use best-in-class quality control procedures, manufacturing the highest-quality product adhering to the International Organization for Standardization (ISO) 22241 standards.
"We are excited to open our first DEF terminal in Alabama," said Dave Michael, general manager of DEF for Musket. "The Mobile market was specifically identified as needing a stable DEF supply solution both to improve local supply economics, as well as maximize logistical efficiencies throughout the Gulf Coast supply chain. The Theodore facility allows Musket to expand its DEF footprint by providing supply options to support wholesale distributors, retail outlets and commercial truck drivers, including Gemini Motor Transport that supplies Love's Travel Stops throughout the region."
160 Driving Academy opens new Illinois location
160 Driving Academy has opened its newest location in Niles, Illinois, in the north side of Chicago.
The Niles Branch is located at 990 W Touhy Avenue, Niles, IL 60714.
160 Driving Academy uses data-driven programs to focus deeply on driver safety and personalized analytics to provide students with individual feedback and instruction via our proprietary app.