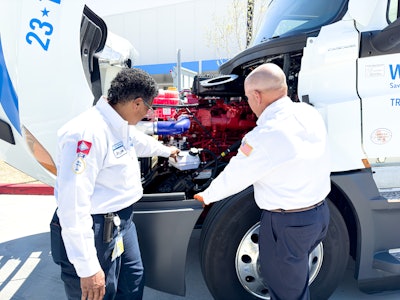 The first North American Cummins X15N 15-liter compressed natural gas engine will be incorporated into Walmart's private fleet and fueled by Chevron with compressed natural gas (CNG) linked to renewable natural gas, the companies announced Tuesday. The first Walmart truck – the first of five – will make its inaugural trip from Indiana to California, making pit stops along the way to refuel at Chevron stations.
Walmart last year announced several first-of-their-kind initiatives among its Class 8 transportation fleet as the world's largest retailer pursues its goal to achieve zero emissions across global operations by 2040.
[Related: Cummins' new 48-volt 10-liter engine slashes emissions while improving fuel economy]
"Walmart transportation is focused on the continuous piloting of solutions that aren't just changing the industry, but are having a lasting impact on the world," said Fernando Cortes, senior vice president of transportation at Walmart.
While trucking has historically relied on diesel to fuel its engines, a move toward renewable natural gas is an important step toward lowering fleet emissions. Renewable natural gas is produced when biomethane from decomposing organic matter – such as cow manure or landfill waste – is captured, treated and processed into natural gas. Methane that is not captured and processed is 25 times more potent than carbon dioxide (CO2) at trapping heat within the atmosphere leading to climate change.
"Working with partners like Walmart to test new products like the X15N gives Cummins valuable real-world data that helps us validate our engines prior to moving into full production," said Puneet Jhawar, general manager – Spark Ignited Products for Cummins. "Chevron has also been very helpful in our test; to help increase CNG fuel availability that will enable adoption of alternate technologies faster."
At the end of the road, it will be featured at the Advanced Clean Transportation (ACT) Expo in Anaheim, California, next month.
"Chevron is constantly pursuing solutions that drive progress toward a lower carbon future," said Andy Walz, Chevron's president of Americas Products. "Partnering with Walmart and Cummins on the road trip and demonstration can help us deliver that progress today for the transportation, the industry, and customers who rely on all of our products to advance a lower carbon economy."