Trucking news and briefs for Thursday, April 27, 2023:
Werner to test Cummins' 15-liter nat-gas engine, deploys two BEVs in SoCal
Werner Enterprises (CCJ Top 250, No. 13) announced multiple initiatives to enhance its sustainability efforts.
The company announced Tuesday it will join Walmart as one of the first fleets to test and validate the 2023 X15N Cummins natural gas engine in its fleet. Werner is one of the few carriers that have started testing the newest engine technology with natural gas, with a goal to achieve a 55% reduction in carbon emissions by 2035.
"As a top five truckload carrier in North America, we are committed to implementing sustainability initiatives creating long-lasting and industry-wide impacts," said Werner's Chairman, President and CEO Derek Leathers. "These vehicles can greatly reduce emissions when running renewable natural gas and we are eager and willing to help validate this new technology."
The new 15-liter Cummins engine is built on a global Internal Combustion Engine (ICE) platform by Cummins and will be tested in the market through the Peterbilt Model 579. Cummins anticipates production of the X15N in 2024.
"Testing the new X15N with Werner Enterprises is a natural step in our ever-evolving relationship with one of the nation's largest truckload fleets as we continue to work together on new technologies," said Puneet Jhawar, General Manager – Global Spark Ignited and Fuel Delivery System Business. "We are excited to put Cummins' next generation natural gas-powertrain through the rigor of Werner's structured testing and validation process to deliver a world-class product for our full production start in early 2024."
Additionally, Werner announced Wednesday its first two Freightliner eCascadia battery-electric vehicles (BEVs) are officially transporting freight in Southern California.
Charge duration times will vary depending on the type of charge and the number of trucks charging at the same time. To accommodate these requirements, Werner's testing includes evaluating and building out a charging infrastructure at its full-service terminal in Fontana, California.
[Related: Walmart set to deploy first Cummins 15-liter nat-gas engine]
Former U.S. Xpress exec joins Armstrong Transport Group as CEO
Armstrong Transport Group, a non-asset-based logistics provider, announced Wednesday that it has appointed Cameron Ramsdell as Chief Executive Officer.
Ramsdell, who previously served as president of the U.S. Xpress' over-the-road division and led its now-defunct Variant division, succeeds Brian Mann, who will continue an active role with the Armstrong as Chairman of its Board of Directors.
Ramsdell will be responsible for setting strategy and accelerating the company's top goals, including continuing to execute its strategic plan to increase market share through expanded service offerings, investing in technology and developing and retaining high-performing agents and brokers to continue the strong growth of the Armstrong network. He brings more than 15 years of logistics operations, sales and technology leadership to Armstrong, having most recently served as Chief Operating Officer at Emerge, a freight procurement platform and has extensive professional experience in the third-party logistics ("3PL") industry.
"We are thrilled to bring in Cameron as CEO to support Armstrong's exciting next chapter of growth," said Mann. "Cameron understands our company's business model, the value of our agent network and the vast growth opportunities in front of us, and I believe he is the perfect person to lead our business going forward. I am such a believer in what we have built and what we are building at Armstrong and I am committed to supporting Cameron and Armstrong during the transition and beyond in any way I can."
Shippers' conditions mostly flat in February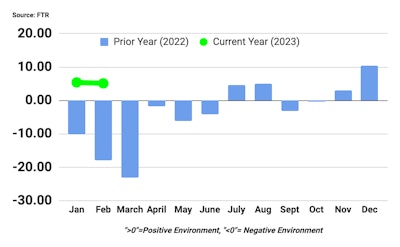 FTR's Shippers Conditions Index (SCI) showed little month-over-month change in February, with a small decline to 5.1 from 5.4 in January, reflecting an environment that is mostly favorable and stable for shippers.
Slightly lower fuel costs and relatively weak freight demand offset stronger rates and utilization in the month, FTR said. The outlook is for market conditions to remain in a modestly favorable range for shippers through 2023 with expected gradual deterioration in 2024.
"A relatively stable, slightly favorable outlook for shippers is unlikely to be moved over the next few months," said Todd Tranausky, vice president of rail and intermodal at FTR. "But shippers need to carefully watch for signs the market will change as that could occur quickly. Shippers also need to closely watch the underlying economy for signs of change that could alter the economic calculus between shippers and their transportation providers."
The Shippers Conditions Index tracks the changes representing four major conditions in the U.S. full-load freight market – freight demand, freight rates, fleet capacity and fuel price. The individual metrics are combined into a single index that tracks the market conditions that influence the shippers' freight transport environment.
Covenant opens new driver lounge, orientation center
Covenant Logistics Group (CCJ Top 250, No. 41) announced Tuesday the grand opening of its newly constructed Hogan Hall and renovated Orientation Training Center, developed exclusively to support truck driver orientations, trainings and other events.
Named for Covenant's Executive Vice President Joey Hogan, Hogan Hall offers driver accommodations with the highest-level comfort and security to drivers at Covenant's headquarters in Chattanooga, the company said.
"This building demonstrates Covenant's total dedication to its loyal driving team, which delivers each and every day for our company and our customers," said Covenant's President and COO Paul Bunn. "We look forward to this new chapter of Covenant's history beginning and are pleased to have welcomed drivers, employees and friends on site to celebrate this momentous event with us."
The culmination of a 16-month project, Covenant's new facilities are located adjacent to one another on campus at Covenant's headquarters. Hogan Hall is comprised of 49,000 square feet, and includes 100 dormitory-style rooms, a lounge, a computer room, a fully covered patio with picnic tables and rocking chairs, and more. The 49,000-squre-foot Orientation Training Center includes state-of-the-art learning facilities and classrooms for company orientations, trainings and other events.
With more than 25 years at Covenant, Hogan served as the company's president from 2016 to January 2023. Covenant named Hogan Hall in his honor as a tribute to his dedicated service to the organization.