Trucking news and briefs for Tuesday, April 18, 2023:
Trucking conditions declined in February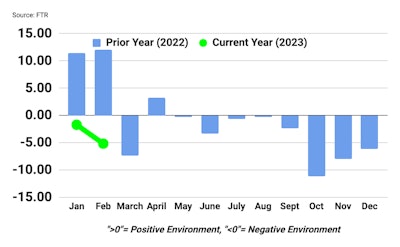 FTR's Trucking Conditions Index in February declined to -5.17 from January's -1.71 reading, reflecting weaker freight rates and volume.
Those headwinds for trucking companies more than offset slight improvements in utilization and fuel costs, the firm noted. Financing costs remain a negative factor for carriers, but they are largely stable. The TCI is forecast to remain in negative territory until well into 2024.
"While market conditions for trucking companies weakened in February, the relatively better – though still negative – TCI in January was the outlier," said Avery Vise, FTR's vice president of trucking. "The industrial and consumer sectors are sluggish, although spending on goods is still elevated and consumer inflation is slowing."
Regarding freight volume, Vise said it's "holding up better than many anticipated, but downside risks are substantial."
Vise added that the economy could slow even more due to tighter lending standards by banks and interest rate hikes from the Federal Reserve, though fears of a major banking crisis have abated since March.
TuSimple gets approval from international autonomous safety auditor
Autonomous truck developer TuSimple announced April 11 the results of a safety audit performed by TÜV SÜD, a world-leading certification body for safety and security in the autonomous vehicle industry.
Within the report, it states TuSimple's policies, processes and procedures for test driver selection, training and oversight process meet the guidelines and requirements of industry best practices.
The audit looked at how TuSimple procedures stack up against the guidelines and requirements of both the Society of Automotive Engineers (SAE) J3018 guidance for on-road testing of autonomous vehicles and the SAE Automated Vehicle Safety Consortium (AVSC) AVSC00001201911 best practices for in-vehicle fallback test driver selection, training, and oversight procedures for automated vehicles under test.
TuSimple is the first U.S.-based autonomous trucking company to publicly announce its results and the first to undergo this type of audit with TÜV SÜD, the company said. The audit was not a requirement, but a voluntary step that TuSimple chose to participate in to validate the company is operating within the established industry best practices. This result is the first step in the company's collaboration with TÜV SÜD as a trusted partner for safety and security.
"Safety is at the heart of everything we do at TuSimple, and we want to know that our safety standards are being met and upheld in every step of our autonomous vehicle testing process," said Cheng Lu, President and CEO of TuSimple. "This audit shows that TuSimple has conformed to recommended autonomous vehicle testing practices and that our company is in alignment with the required layers of safety processes to identify and resolve safety risks."
TuSimple currently conducts continued development and testing of its autonomous driving system with both safety drivers and test engineers. The recent audit specifically looked at processes around how the company selects and trains drivers and establishes operational processes and procedures for drivers and test engineers. At TuSimple, the average industry experience of these teams exceeds 18 years.
Penske opens new Alabama leasing facility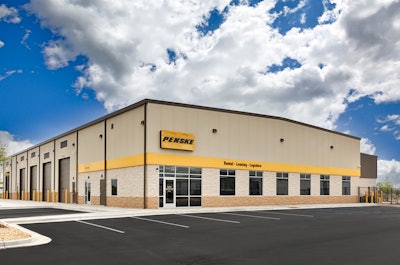 Penske Truck Leasing recently opened a state-of-the-art facility in Huntsville, Alabama. Located at 25174 One Aviation Way SW, the new location is conveniently located off Interstate 565 and provides service to both the Madison and Huntsville markets.
At this location, Penske offers consumer and commercial truck rental, full-service truck leasing and contract truck fleet maintenance. It is also outfitted with the company's proprietary fully digital and voice-directed preventive maintenance process and Penske digital experience solutions, which help customers leverage Penske technology as well as options related to onboard technology systems (ELDs, telematics, onboard cameras, etc.).
"We've enhanced our ability to effectively serve Penske customers and employees with this new, state-of-the-art facility," said Robert Latimer, area vice president of Penske Truck Leasing. "The facility not only improves our operational efficiency through ease of accessibility and a spacious layout, but also increases our ability to amplify our capabilities and potential. Through this strategic growth, Penske remains the transportation provider and employer of choice in the Northern Alabama area."
The facility features eight service bays plus an automatic truck wash bay and a full-service fuel island offering diesel, diesel exhaust fluid, and gasoline.
Estes names two new vice presidents
Estes Express Lines (CCJ Top 250, No. 11) recently announced two new vice presidents with the company.
Carrie Johnstone is now vice president of customer experience and innovation, and Sara Graf is now the company's vice president of sustainability, culture and communications.
Johnstone previously served as the director of customer engagement and will now oversee corporate customer care, Estes' corporate website, marketing, BI reporting and investor relations. She will also lead the business side of the Customer Hub for IT.
Graf previously served as vice president of culture and communications. She will lead sustainability initiatives and oversee Estes' communications and employee engagement efforts.