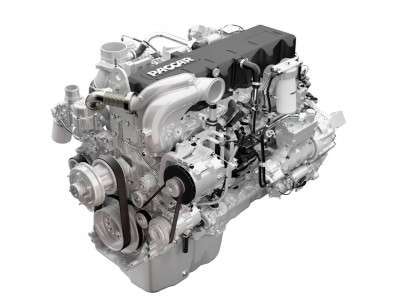 Paccar introduced its new MX diesel engine that will be installed in Kenworth and Peterbilt trucks this summer, available with a horsepower range of 380 to 485 horsepower and torque outputs up to 1,750 lb-ft. Paccar says this power range – combined with excellent fuel efficiency, high reliability, durability, lightweight design and low cost of ownership – makes it suitable for both over-the-road linehaul and vocational applications. The MX uses selective catalytic reduction in combination with exhaust gas recirculation to meet the Environmental Protection Agency's 2010 diesel engine emissions regulations.
"We look forward to delivering our integrated and optimized best-in-class drivetrain to our customers," says Craig Brewster, Paccar assistant vice president.
Paccar designed and manufactured the engine's block and cylinder head using high-strength compacted graphite iron. According to Brewster, this "premium" material is more durable and lighter than conventional gray iron, resulting in superior power-to-weight performance. Additional features include an electronically controlled high-pressure fuel injection system designed to deliver excellent fuel economy and a new block design and rear gear train that contribute to lower in-cab noise levels, resulting in a more comfortable driver environment. A new integral engine brake facilitates powerful performance across a broad range of engine RPMs.
Paccar President Jim Cardillo says the MX has accumulated more than 50 million test miles in North America in rigorous, severe conditions. "Over 125,000 Paccar MX engines are successfully operating in DAF trucks globally," Cardillo says.