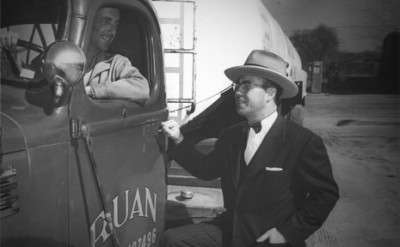 John Ruan, founder of Des Moines, Iowa-based Ruan Transportation Management Systems (Ruan), passed away Saturday, Feb. 13. He was born on Feb. 11, 1914, and died at the age of 96.
"Our family is grieving," says his son, John Ruan III, chairman and chief executive officer of Ruan Transportation Management Systems. "We have lost our mentor and dear companion. My father's influence in the industry and with his employees and customers built the strong foundation for the company that exists today."
Nationally, John Ruan was well-known for his transportation company that began in 1932 with only one truck and over the years grew into one of the nation's largest transportation management companies.
John Ruan also was an active leader of many community projects. He had a passion for worthy interests that launched many successful charitable projects and fund-raising events that had an impact both in Iowa and globally.
"John Ruan was a recognized leader in business, education and community," says Thomas Donahue, president and CEO of the U.S. Chamber of Commerce. "He was the visionary who formed the World Food Prize. But most importantly, he was a man of courage and conviction, a leader who made others stronger and better because they knew him."
In 1990, John Ruan established a foundation that assumed sponsorship of the World Food Prize, the foremost international award recognizing individuals who have advanced human development by improving the quality, quantity or availability of food in the world.
"John knew what the Prize could become," said Ambassador Kenneth M. Quinn, president of The World Food Prize Foundation. "He knew it would be the centerpiece to help solve world hunger and bring glory to Iowa."
John Ruan has been recognized widely for many of his contributions to industry and humanity. In 1997, the American Trucking Associations' Ruan Transportation Center building was dedicated in Washington, D.C., honoring his more than 50 years of service to the transportation industry.
As chairman and CEO of the Ruan family of companies, John Ruan represented a diversified group of businesses with activities including transportation, commercial banking, financial services, international trading and real estate development. Ruan Companies owns Bankers Trust Co., the largest independent bank in Iowa.
An Iowa native, John Ruan was a major contributor in business and the development of the Des Moines metropolitan area. He built the 36-story Ruan Center, the Marriott Hotel and the 14-story Two Ruan Center. He was instrumental in the development of the downtown Des Moines skywalk system, the Des Moines Convention Center and the construction of several city parking structures. He also contributed more than $2 million for the establishment of the Ruan Neurological Center (now the Ruan Rehabilitation Center) and the Ruan Neurology Clinic at Mercy Medical Center.
He is survived by his wife, Elizabeth Ruan, and his sons, John Ruan III and Thomas Ruan, all of Des Moines.