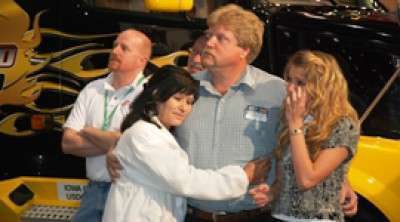 Arrow Truck Sales and its industry sponsors on Friday, March 26, announced Robert Snyder of Dunnellon, Fla., as the winner of Arrow's Back On The Road 2010 campaign, presented by Volvo Trucks North America. A hard-working husband, father and truck driver, Snyder always has put his family first; this selflessness was not wasted on his teenage daughter, Savannah, who nominated her dad for Back On The Road.
"My dad isn't like most fathers, husbands, or even like most guys who are going through hard times," Savannah said in her nomination. "He constantly puts everybody before himself. Money is tight and our family is struggling. I want the weight lifted off of my dad's shoulders; I want him to smile. Not those fake smiles. The smile we haven't seen in years."
Savannah saw that genuine smile from her father when representatives from Arrow and the campaign's sponsors, along with country music star Aaron Tippin and Sirius XM host Dave Nemo, announced he was this year's Back On The Road winner.
"Robert is like so many drivers we see on the road today," said Carl Heikel, president and chief executive officer of Arrow Truck Sales. "He is a good man, who is passionate about trucking and providing for his family. He is doing everything he can to make it through the recession. We are proud to give him this opportunity of a lifetime to not only change his life but the lives of his wife, Sylvia, daughter, Savannah, and their family."
As was the case for so many truck drivers, Snyder's financial problems began about two years ago with the onset of the recession. As diesel prices skyrocketed and loads became scarce, Snyder found the career he loved no longer provided for his single-income family. One breakdown away from losing his livelihood, Snyder continued driving his 14-year-old truck with more than 1.5 million miles. Winning Back On The Road provides Snyder with the tools and resources needed to support his family.
As the winner of Back On The Road, Snyder receives a 2007 Volvo VNL 670, courtesy of Volvo Trucks North America, a one-year work agreement with Heartland Express and other products and services, including:
* X One tires from Michelin;
* TriPac auxiliary power unit courtesy of Thermo King;
* Monthly $500 fuel cards thanks to Pilot Travel Centers;
* Business consulting tools courtesy of ATBS;
* Insurance provided by the Owner Operator Independent Drivers Association;
* A 3-year/300K-mile warranty from National Truck Protection Inc.;
* One year's worth of filter products from Genuine Volvo Parts;
* Custom truck paint job courtesy of Dickinson Fleet Services;
* Truck accessories and fenders courtesy of Minimizer Products;
* Memory foam mattress provided by SleepDog Mattress; and
* Paint provided by Sherwin-Williams.
"Winning Back On The Road is a dream come true," Snyder said. "Driving is my life, and I know receiving the 2007 Volvo VNL 670 from Volvo Trucks North America and job with Heartland will help me provide my family with the life they deserve. I am blessed to have this opportunity to represent Arrow Truck Sales and all of the great companies who have joined in this campaign."
For more information on Back On The Road 2010, go to www.backontheroad2010.com.