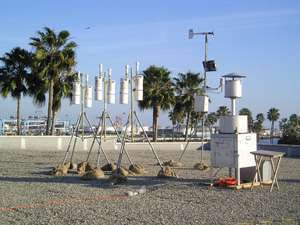 New data from four air quality monitoring stations in and around the Port of Los Angeles show concentrations of elemental carbon in the port area air fell in 2009 for the third straight year, the port announced Wednesday, April 7. Elemental carbon is used as an indicator of diesel particulate matter.
The port says the results prove that air quality in the L.A. Harbor is improving as a result of substantial investments the port, its tenants and other port-related businesses have made in recent years by purchasing cleaner equipment and participating in a variety of emissions-reduction initiatives. New state air quality regulations also have helped slash emissions from the big diesel engines that power the movement of cargo, according to the port.
The result, according to the port, has been a drop in concentrations of diesel exhaust in port-area communities: in 2009, DPM, measured as elemental carbon, was 34 percent lower in San Pedro and 45 percent lower in Wilmington than in 2006. Concentrations of another air pollutant, PM2.5 (particles less than 2.5 microns in size), met federal and state standards in both 2008 and 2009, the first time that has occurred since monitoring began in the port area.
"When we adopted the Clean Air Action Plan in 2006, the Port of Los Angeles made a commitment to its communities to do everything it could to improve air quality and protect the port work force and nearby residents from harmful effects of port operations," said Port Executive Director Geraldine Knatz, Ph.D. "I'm very pleased to see that the latest results from air quality monitoring stations show that we are living up to that commitment."