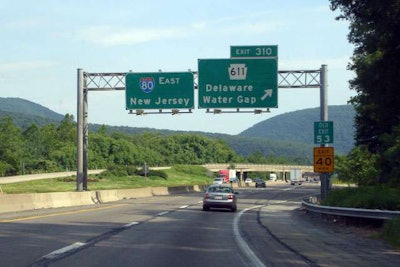 NATSO, the national association representing truckstops and travel plazas, on Wednesday, April 7, applauded the U.S. Department of Transportation's rejection of Pennsylvania's application to toll Interstate 80. Auto drivers would have paid $25 and truck drivers would have paid $100 to drive on the interstate, which runs east to west across the entire state. NATSO criticized the endeavor, arguing that fuel taxes remain the most equitable source of revenue to support the interstate.
NATSO President and Chief Executive Officer Lisa Mullings hailed the decision, saying tolling I-80 would have caused trucks and motorists to find alternative routes to bypass the tolls, further weakening businesses along the interstate that already are struggling against a weak economy. New tolls also would have double-taxed motorists who already pay for the interstate system through state and federal fuel taxes.
"We're pleased that DOT has moved away from the idea of tolling the interstate as a means of generating revenue," Mullings says. "Tolls divert traffic to secondary less-safe roads as well as away from those businesses operating along the interstate that are most equipped to handle highway traffic. This marks a major victory for highway-based businesses. We hope that other states will see that tolling existing interstate is not a viable solution to revenue problems."
The Pennsylvania Department of Transportation and the Pennsylvania Turnpike Commission submitted a joint application to DOT in late October requesting to implement tolls on I-80. The application was the third such attempt by the Commonwealth after two previous applications were denied. However, the most recent application was the first submitted under new leadership at DOT. After this third rejection, Rendell classified I-80 tolling attempts as "over."
The original plan to toll I-80 was derived out of Act 44, approved by the Pennsylvania legislature in 2007. Act 44 established a system in which the PTC would "lease" I-80 from PennDOT, paying annual lease payments under the expectation that I-80 would be converted to a toll road. In all three applications, DOT found that the application to toll I-80 did not meet the criteria of the pilot program under which the applications were submitted.