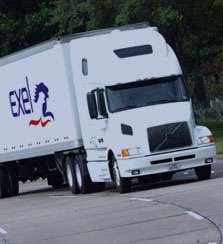 Exel Transportation has earned the Carrier of the Year award from Frito-Lay North America. Exel Transportation received the recognition during an awards ceremony held April 15 in Plano, Texas.
"Exel Transportation has played a vital role in maximizing the efficiency and effectiveness of our transportation network," says Rodney Noble, senior group manager for transportation procurement at Frito-Lay. "Exel's outstanding performance earned them the 2009 Carrier of the Year."
Exel Transportation is one of numerous core carriers for Frito-Lay, a division of PepsiCo. Frito-Lay's annual Carrier of the Year recognition is based on service, efficiency, cost controls, ease of doing business, innovation and feedback from the company's field personnel.
"We're honored to receive the Carrier of the Year award from Frito-Lay," says Philip Johnson, vice president for national accounts for Exel Transportation, based in Westerville, Ohio. "It has been a privilege to serve Frito-Lay for more than 15 years, and our dedicated team looks forward to continuing to develop innovative solutions for this premier company."
Exel Transportation provides a variety of services to Frito-Lay, including rail management, inbound/outbound tracking services, intermodal services and in-plant sourcing. In 2009, Exel Transportation ranked as Frito-Lay's largest carrier with more than 15,000 deliveries by truck and rail to food production facilities across North America.