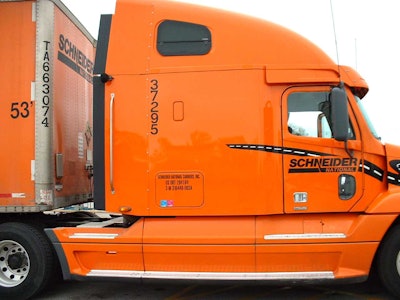 Schneider National announced Wednesday, May 19, that it has completed its nationwide rollout of Regional service with the introduction of Northeast Regional service. As a result, the company is recruiting to fill 300 regional driving positions in its Van Truckload, Bulk (Tanker), Dedicated and Intermodal business sectors operating in this section of the country. These new Northeast Regional positions are part of the Green Bay, Wis.-based company's recruiting effort to attract 2,500 regional drivers throughout the United States by the end of the year. For more information, go to www.schneiderjobs.com.
"We appreciate that our drivers enjoy truck driving as a career but also want adequate time at home to spend with family and friends," says Marc Rogers, senior vice president and general manager of Schneider Van Truckload. "While we have many drivers who enjoy the journey of a long-haul delivery, those who want to stay closer to home are now able to run regionally – meaning they stay within a 500-mile radius – and get home on a weekly basis."
Schneider's Northeast Regional service is offered in Connecticut, Delaware, Maine, Maryland, Massachusetts, New Hampshire, New Jersey, New York, Pennsylvania, Rhode Island and Vermont. In all, the expansion brings the total number of regional-serviced states to 48.
Schneider National recognizes that the Northeast corridor has unique challenges given its density and provides additional pay to drivers in this region. The company also is equipping its entire fleet of trucks with industry-leading in-cab technology that provides drivers with electronic access to load assignments and text-to-voice directions, as well as the Internet. Since they now are able to surf the Web from the convenience of their truck, drivers can communicate with family and friends from the road more easily.