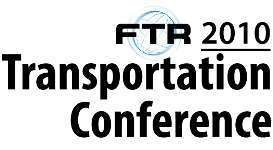 FTR Associates says the transportation industry is in a critical point of the shift from survival to growth, and anyone interested in freight transportation – including suppliers, lessors, carriers, shippers, investors and analysts – will gain clear insight into what they can expect going forward by attending its 2010 Transportation Conference "Turning the Corner: Shifting from Survival to Growth", being held Sept. 14-16 in Indianapolis. Attendance is now open for the conference.
FTR says the transportation industry is starting to turn the corner and now is shifting from survival mode to a growth mode, and that the conference – which is focused on freight transportation in North America over the next five years – brings all parties to the table and connects the dots between the economy, freight demand by mode, fleet and shipper behavior, and equipment demand.
Attendees will hear from more than 40 speakers and panelists providing insight on all modes of freight transportation. To register for the conference and to view a full agenda, including a detailed description of each session, go to www.ftrassociates.com. Early-bird registration with discounted costs will be available through June 30.