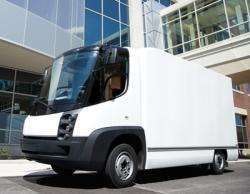 Navistar Inc. this week delivered some of its first eStar all-electric trucks to Pacific Gas and Electric Co. Navistar also announced its first eStar dealer for the California market – Riverview International Trucks Inc. of West Sacramento.
"A state as green as California can appreciate the amazing potential of the eStar all-electric truck when it comes to clean energy-efficient transportation," says Shane Terblanche, general manager of Navistar-Modec Electric Vehicle Alliance, the joint venture between Navistar Inc. and Modec Limited of the United Kingdom.
Navistar's eStar arrived on the steps of the state capitol to give lawmakers and local officials a close-up look at the vehicle, which is designed to serve the large Class 2c-3 segment of the light- and medium-duty trucking market. "This clean electricity vehicle is part of our continuing commitment to reduce the impact of our operations and improve the air quality in the communities we serve," says Ed Bedwell, PG&E's senior director of state and local government relations.
Full production of the eStar began in May at the company's facility in Wakarusa, Ind. Navistar's initial customer, FedEx, has four of the trucks in use in the Los Angeles area. Navistar plans to deliver 400 units to additional customers by the end of 2010. "For businesses, municipalities and other organizations that demonstrate their environmental commitment, the eStar provides them with a smart option," Terblanche says.