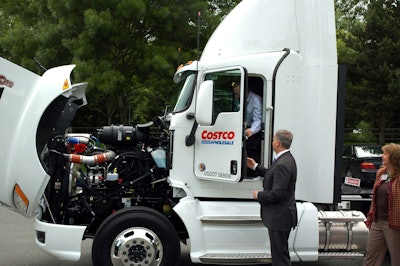 Costco Wholesale Corp., a national wholesale club operator, has become both the first Kenworth Truck Co. and PacLease customer to receive a 2011 Kenworth production truck equipped with the new Paccar MX engine, the truck maker announced Tuesday, June 22.
During a recent ceremony at Costco headquarters in Issaquah, Wash., Costco Executive Vice President Tom Walker, Senior Vice President of Depots and Traffic John Thelan and Vice President of Depot Operations Sarah Mogk received the keys to a new Kenworth T660 from Bill Kozek, Kenworth general manager and Paccar vice president, and Olen Hunter, Paccar Leasing director of sales.
"We're honored to be selected to receive the first Paccar MX engine installed in a 2011 Kenworth production truck," said Walker, who oversees Costco's transportation, supply chain and facility operations worldwide.
Costco's all-Kenworth fleet of 300 trucks in North America all are covered under a full-service lease provided by PacLease, which provides maintenance, administrative support and other services to Costco's fleet operation. "Costco's introduction of 150 T660s last year helped increase fuel efficiency by nearly 1 mile per gallon and provide decreased emissions," said Hunter.
The Paccar MX 12.9-liter diesel engine, which has received U.S. Environmental Protection Agency and California Air Resources Board certification, meets the 2010 low-emissions standards of 0.2 grams per brake horsepower hour of NOx and 0.01 grams per brake horsepower hour of particulate matter. "Costco has been an industry leader in seeking ways to enhance fuel efficiency," said Kozek.
The Paccar MX engine is available with a horsepower range of 380 hp to 485 hp and torque outputs up to 1,750 lb-ft. Kenworth says this power range – combined with a fuel-efficient, reliable, durable and lightweight design, as well as low cost of ownership – makes the engine suitable for both over-the-road line-haul and vocational applications.
"Teaming the fuel-efficient Paccar MX engine with the aerodynamic T660 will help Costco attain additional fuel efficiency gains while also reducing emissions," said Mogk, who is responsible for Costco's private fleet operations.