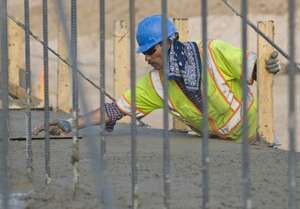 Federal Highway Administrator Victor Mendez joined New Mexico Gov. Bill Richardson and other state and local officials at the ribbon cutting in Albuquerque on Thursday, June 24, to mark the completion of the final segment of the Interstate 40/Paseo del Volcan Interchange – making it the state's first highway project completed using money from the American Recovery and Reinvestment Act.
"The Recovery Act was passed to turn back the worst recession since the Great Depression," says U.S. Transportation Secretary Ray LaHood. "Through the Recovery Act, we're rebuilding our transportation infrastructure and forging a stronger economic future in New Mexico and all across the United States."
The ceremony marked the end of a $60 million four-year improvement project to the state's busiest interstate and the busiest east-west commercial freight corridor in the American southwest. The estimated 25,000 daily drivers currently served by the newly completed segment is expected to more than double in the next 15 years due to a surge in residential and commercial development west of the interchange.
"Projects like this really improve the quality of life for people living in their communities," Mendez says. "The investment is not only shoring up our infrastructure, it's also giving time back for people to enjoy with their families and friends."
The final segment, which was financed with $14.8 million in Recovery Act funds, allowed work crews to build a new overpass and new off- and on-ramps, and extend the current storm drain system to accommodate current and future development in the area.
Of the $26.6 billion in Recovery Act funding available to states for highway and bridge projects, $252.6 million has been obligated for 92 projects in New Mexico. As of June 11, 77 are under way.