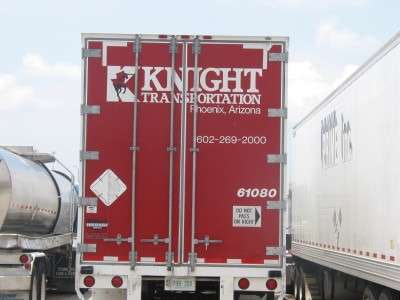 Knight Transportation announced it has chosen the Air1 brand of Diesel Exhaust Fluid (DEF) for its nationwide fleet of trucks that use selective catalytic reduction emissions control technology. Yara, supplier of Air1, uses a multiple sourcing concept to provide an uninterrupted supply through the Mansfield DeliveryOne network.
"Yara stepped up and delivered the full service DEF solutions demanded by Knight Transportation," said Dave Jackson, CFO of Knight Transportation. "The Air1 team really helped us get started with DEF and answer all the questions we have about this new product. They can also grow with us and help us meet our changing needs as our SCR fleet evolves," said Dave Jackson, CFO of Knight Transportation.

In February, Knight Transportation ordered 370 Volvo VN trucks equipped with SCR emissions control technology and began taking delivery in April.

Truck engine manufacturers will need to comply with the new emission standards imposed by the U.S. Environmental Protection Agency that went into effect on January 1. Under the new regulations, most engine manufacturers have chosen the Selective Catalyst Reduction (SCR) system as the most efficient way to meet these standards. DEF, the operating fluid for SCR, is a non-toxic solution that transforms harmful NOx emissions from heavy-duty diesel-powered vehicles into harmless water vapor and nitrogen. According to engine manufacturers, SCR combined with DEF improves overall fuel economy by approximately 5 percent compared to competing technologies, and achieves Nitrogen Oxide (NOx) reductions in excess of 90 percent.