A key indicator of the strength of the manufacturing sector showed continued growth in June, although the improvements were at a slower rate than in the month before. The Institute of Supply Management reported June 1 that the PMI – a composite index of various manufacturing sector trends – stood at 56.2 in June — the 11th consecutive month for which the index was above 50, indicating growth.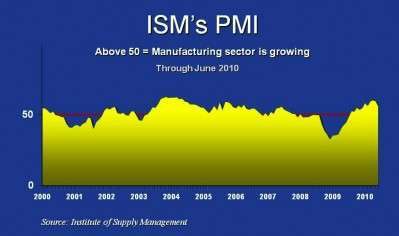 Two component indexes of the PMI – new orders and production – that are of particular interest to the trucking industry also showed continued growth. The numbers show continuation of the manufacturing-sector recovery that began late last summer. If there is any red flag at all in ISM's report it is that growth in the PMI and in the new orders and production indexes was slower than the growth in May. All stand well about 50 percent, however, and ISM itself isn't concerned.
"The lower reading for the PMI came from a slowing in the new orders and production indexes," says Norbert Ore, chairman of ISM's Manufacturing Business Survey Committee. "We are now 11 months into the manufacturing recovery, and given the robust nature of recent growth, it is not surprising that we would see a slower rate of growth at this time. The sector appears to be solidly entrenched in the recovery."
The only manufacturing industries reporting contraction in June were apparel; leather and related products; wood products; and machinery.