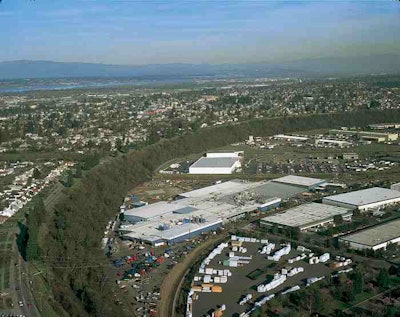 Daimler Trucks North America on Friday, July 2, announced new three-year collective bargaining agreements covering workers at its Portland Truck Manufacturing Plant. The contracts, which are effective immediately, cover union employees represented by the International Brotherhood of Teamsters Local 305, the Service Employees International Union Local 49, the International Association of Machinists and Aerospace Workers Local 1005, and the International Union of Painters and Allied Trades Local 1094.
Daimler says tentative collective bargaining agreements were reached on Thursday, July 1, following extended negotiation between company management and union leadership, while the tentative agreements were ratified by Local Bargaining Unit membership in separate meetings Friday, July 2. Previous contracts originally were set to expire June 30 but were extended pending the formal ratification of the new agreements by the union membership.
Daimler says the new contracts include numerous negotiated provisions that will enhance scheduling flexibility, improve efficiency and reduce operating costs. Employment levels will remain unchanged for the present, and the plant will continue to operate with one shift.
In October 2008, DTNA announced the planned mid-2010 closure of the PTMP, plans that were shelved in September 2009 in favor of "second chance" contract discussions.
"These new contracts solidify our U.S. production footprint and position us to continue manufacturing operations in Portland well into the future," says Martin Daum, president and chief executive officer of Daimler Trucks North America. "The negotiation process was challenging and required sacrifice and compromise from all parties involved. We would like to express our sincere thanks and appreciation to the leadership of the Portland unions and to our employees for their commitment to a productive dialog and a positive resolution."
The ratification of new collective bargaining agreements for the PTMP follows successful new contract negotiations at the company's North Carolina and Michigan plants earlier this year.