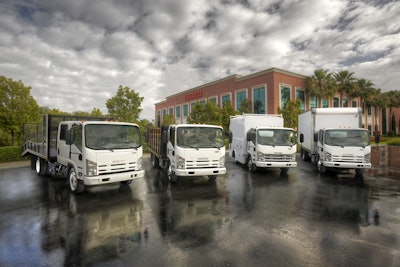 Isuzu Commercial Truck of America, distributor of low-cab-forward trucks, announced Friday, July 9, that production has begun on its low-cab-forward medium-duty diesel engines designed to meet the newest and strictest emissions standards. The company says that 2011 Isuzu N-Series trucks equipped with cleaner powerplants already have began to roll off the line at Isuzu Motors Limited's factory in Fujisawa, Japan, and will begin arriving in U.S. dealerships in early August.
"The great news for our customers is that these engines are not only environmentally friendly, they are also more powerful and more fuel-efficient than the engines they replace," says Shaun Skinner, executive vice president and general manager of Isuzu Commercial Truck of America.
The new Isuzu N-Series medium-duty low-cab-forward trucks feature selective catalytic reduction technology with diesel exhaust fluid injection to comply with the U.S. Environmental Protection Agency's 2010 emissions standards, which require reductions in NOx. The company says the clean-idle-certified trucks comply with the California Air Resources Board HD-OBD requirement that trucks more than 14,001 lbs. GVWR employ onboard diagnostics equipment to monitor and verify NOx and particulate emissions levels.