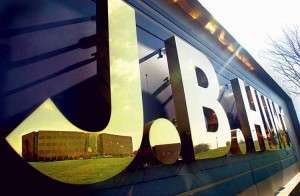 J.B. Hunt Transport Services Inc. on Thursday, July 15, announced second-quarter 2010 net earnings of $52.1 million vs. second-quarter 2009 earnings of $24.0. Second-quarter 2009 results included a pretax charge of $10.3 million to write down the value of certain tractors held for sale.
Total operating revenue was $943 million, a 22 percent increase over $770 million, primarily attributable to higher Intermodal segment volumes, significant growth in the Dedicated Contract Services (DCS) segment and revenue growth in the Truck segment. Utilization of assets also improved significantly, as did pricing in the Truck segment. Operating revenue, excluding fuel surcharges, increased 16 percent.
Operating income increased to $91.3 million vs. $47.1 million, or $57.4 million excluding the asset writedown in 2009, primarily due to a 54 percent increase in Intermodal operating income, a 177 percent increase in DCS operating income and positive Truck operating income vs. a loss last year. Operating expenses – excluding fuel, fuel taxes, rents and purchased transportation – all were lower as a percentage of revenue. The effective income tax rate was slightly lower.
"Demand for transportation services has increased fairly dramatically, as we have emerged from a multiyear freight recession," said Kirk Thompson, president and chief executive officer of J.B. Hunt, based in Lowell, Ark. Scarcity of capacity in Intermodal, Truckload and Brokerage markets was pronounced in the current quarter, Thompson said. "We saw our business improve sequentially throughout the quarter as reflected in higher prices in Intermodal and Truck as the quarter unfolded."
J.B. Hunt's Truck overall rate per mile, excluding fuel surcharges, improved 8.3 percent from April to June this year. "Across all segments, demand was solid throughout the quarter with no evidence of renewed weakness," Thompson said. "Shippers increasingly have exhibited concern about the supply-demand imbalance, as their ability to secure adequate capacity has become more difficult."