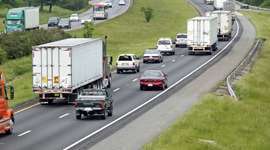 ALK Technologies announced the newly released version of PC Miler Web Services 24. This hosted interfacing application is designed to provide PC Miler map data and functionality quickly and efficiently to customers regardless of the IT infrastructure via a schema-driven XML/SOAP interface developed in Microsoft .Net, packaged as a Web Service. ALK says it's a standardized way of embedding PC Miler's truck-specific routes, mileage, maps and reports with third-party Web Services and .Net applications.
PC Miler Web Services incorporates all of the features of PC Miler 24 to help predict and manage operating and transportation costs, reducing out-of-route mileage and saving time, tolls and fuel. PC Miler Web Services 24 also calculates truck-specific toll costs based on vehicle weight and axle count. The service also offers multiple version capabilities, supporting the special needs of customers with various versions of PC Miler for contracts and billing.
PC Miler 24 encompasses 627,000 new and updated North American truck restrictions and 21,700 miles of new and updated truck-restricted roadway. The recently updated map data includes 3.52 million commercial truck restrictions, such as bridge heights, clearances and load limits. Its 427,600 urban road designations help keep commercial vehicles out of city centers and on designated truck-through routes around the city.
PC Miler Web Services is hosted in a tier-one data center to ensure stability and reliability. Users can choose their Feature Option Level to gain access to the features of choice: Lite, Standard or Premium. An ALK-designed, hosted and maintained Graphical User Interface (GUI) also is available that includes the service's features and functionality, eliminating the need for users to develop their own graphical interface.
"Users can access the powerful data and functionality of PC Miler 24 over the Internet, integrated into their own Web-based systems or websites," says Alice Elgrim, director of sales for PC Miler Solutions. "Either way, PC Miler Web Services provides the most accurate data and valuable services in a way that actually reduces IT costs."
New features and enhancements include:
• Least Cost Routing that generates optimal routes based on custom fuel efficiency and operation cost settings;
• Calculation of estimated Greenhouse Gas (GHG) emissions per route;
• Comparison Reports that can be generated to compare different routes, or the effect of different routing options on the same route;
• Displaying multiple routes on the map at the same time; and
• Free quarterly updates of U.S. ZIP Codes.