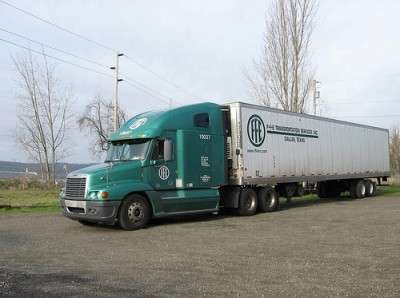 Frozen Food Express Industries' pre-tax loss for the second quarter was half the size of the loss it reported in the same 2009 quarter, the company reported Aug. 3. The Dallas-based temperature-controlled carrier posted a $3.3 million pre-tax loss for the quarter ended June 30 – a considerable improvement over the $6.6 million loss the same period last year. FFE's net loss for the second quarter was $4.4 million, an improvement over the $5.2 million loss in the second quarter last year.
Operating revenue, excluding fuel surcharges, of $80 million was down 5.3 percent from the second quarter 2009. Total operating revenue, however, was flat at $95 million. The lower loss, therefore, resulted in a 3.1 percent reduction in operating expenses. Expense savings came from lower salaries, wages and related expenses, purchased transportation and revenue equipment rent, although those were partially offset by higher fuel costs and insurance costs and claims.
Among the highlights FFE cited in announcing its results were an operating ratio improvement of 3.1 percent, a 15.3 percent improvement in truckload revenue per laden mile, the lack of debt and cash on hand of $6.6 million.
"Through the latter portion of 2009 and into 2010, we placed a priority on service excellence, targeted pricing programs and asset utilization," said Stoney Stubbs, chairman and chief executive officer. "We continue this approach, as it has shown results in improved pricing yield in our truckload service and increased shipment count and tonnage in our LTL service." FFE has seen improved pricing due to capacity exiting and a "marginal uptick in demand."
Asset productivity as measured by revenue per truck per week increased by 4.6 percent from the second quarter 2009 to $3,336, primarily because of an increase in truckload revenue per loaded mile to $1.58 from $1.37 last year.
"We made the decision in 2009 to park a portion of our existing tractor fleet, and the current environment has allowed us to begin putting this equipment back in service as we have seen a willingness from shippers to allow pricing adjustments in order to ensure available capacity improves in the second half of 2010," said President Russell Stubbs. "As drivers return to the work force, we will be able to profitably increase our fleet to traditional levels and supply the service our customers require."