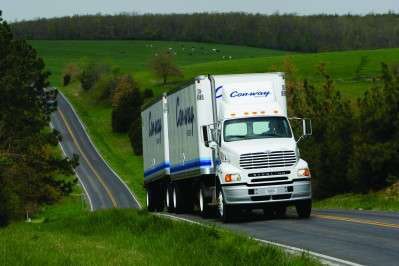 Con-way Inc. said Aug. 4 that its revenues in the second quarter totaled $1.31 billion — a 23.7 percent increase over the same 2009 quarter. But Con-way Freight's decision to reinstate in January employee wage and benefit reductions that had been taken last year shaved $15 million off Con-way's operating income. The higher labor rate costs combined with higher labor, rental and purchased transportation costs due to record network volume in the second quarter reduced Con-way's net income to $13.9 million from $31.5 million in the 2009 quarter.
Results were adversely affected by higher labor, equipment rental and purchased transportation costs as network volumes remained at record levels. Also, increased payroll costs from partial reinstatement of employee wage and benefit reductions taken last year reduced current-quarter operating income by approximately $15 million.
Seasonally stronger demand and an economic rebound resulted in higher revenue in all segments, said Douglas Stotlar, Con-way's president and chief executive officier. "The second quarter saw Con-way Freight's business levels surge to record volumes, resulting in higher variable operating costs," Stotlar noted.
Efforts to improve pricing showed modest progress in the quarter, Stotlar said. "Yield each month in the quarter improved sequentially. However, managing the balance between price and volume while bringing costs into alignment will take time, which restrains our expectations for near-term improvement."
Spot pricing strength seen in the first quarter has now begun to show up in longer-term truckload contract pricing, Stotlar said. "The market fundamentals have changed dramatically over the past quarter, improving Con-way Truckload's prospects for the rest of the year," Stotlar said.