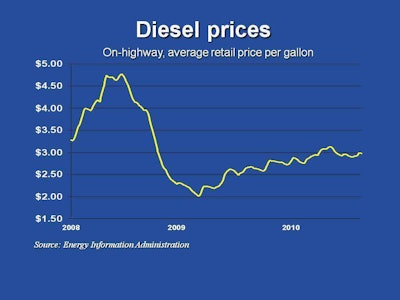 The national retail price of on-highway diesel slipped 1.2 cents to $2.979 per gallon during the week ending Monday, Aug. 16. The price of diesel, which dropped after three consecutive weekly increases, is 32.7 cents higher than the same week last year, according to the U.S. Department of Energy's Energy Information Administration.
Diesel prices declined in all regions except the West — California, West Coast and Rocky Mountain states. The Central Atlantic Region enjoyed the largest price decline at 3.1 cents, followed by the Lower Atlantic at 2.2 cents. The Rocky Mountain region saw the biggest jump in prices at 2 cents
As usual, prices were highest in California at $3.186 a gallon, followed by $3.129 in other West Coast states. The nation's least expensive diesel by region, $2.933, was found on the Gulf Coast.
Average retail prices for all regions are available on EIA's website.