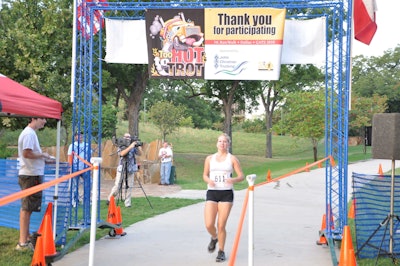 An estimated 100 truck drivers and other industry representatives participated in the Too Hot to Trot 5k Aug. 27 at the Great American Trucking Show in Dallas.
The winner was Right Weigh Load Scales' Andy Mount, of Portland, Ore., with a time of 18:10. "As an exhibitor at the [Great American Trucking Show]," said Mount, who with his primary marketing rep is an avid runner and former marathoner, "I decided to come out and run, support the cause of truckers' health, and it was a great course, a very well-run event."
The first female finisher, coming in third place overall, was Andrea Roozen at 21:24. Jasmine "Jazzy" Jordan, who in June completed a nine-month cross-country journey run to bring awareness to truckers' health issues and the St. Christopher Truckers Development & Relief Fund, was the first woman to follow Roozen at 25:04.
"I did pretty well," said Jordan, "though I walked part of it because my knee was hurting. I'm really happy I got to come out here and run with everybody."
Donations were accepted for the St. Christopher Truckers Fund at the event.
The event was sponsored by Truckers News' Fit for the Road program and John Christner Trucking, along with the Healthy Trucking Association of America.
The top three men and women finishers, as well as their times, follow:
Women:
Andrea Roozen, 21:24
Jasmine Jordan, 25:04
Jessie Domsugez, 25:47
Men:
Andy Mount, 18:10
Dave Rogers, 21:13
Brent Hutto, 22:23
Also participating were, among many others, Truckers News blogger and columnist and driver Jeff Clark; Overdrive 2007 Trucker of the Year Henry Albert; Convoy for a Cure organizer Cindy Stowe; and Mike Reilly of Truckers News publisher Randall-Reilly Business Media and Information.