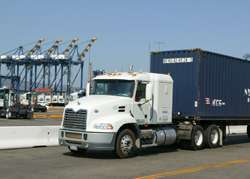 U.S. District Judge Christina Snyder last week ruled in favor of the City of Los Angeles and the Port of Los Angeles in a lawsuit brought by the American Trucking Associations over the port's Clean Truck Program. The court late Thursday, Aug. 26, awarded judgment in favor of the city and ruled that the Concession Agreement provisions are enforceable. "We are disappointed with the decision, and believe it is clearly erroneous as a matter of law," ATA said in a statement.
Snyder rejected ATA's arguments that the plan was not in compliance with federal laws regarding interstate commerce and transportation safety. Snyder ruled that the agreement's employee provision would protect the port's financial investment in subsidized vehicles and ensure that drivers have the available funds to maintain the new, cleaner truck fleet. The 57-page ruling said air pollution from trucks had jeopardized the port's future as a commercial enterprise, with emissions-related lawsuits stalling its growth.
"This decision is evidence that we are making real progress on growing and greening our port," said Los Angeles Mayor Antonio Villaraigosa. "Now we can finally move forward with our Clean Truck Program, a model for ports around the nation."
"We are extremely pleased that our concession program was upheld by the court ruling, including accountability of motor carriers," said Geraldine Knatz, the port's executive director. "Our ability to have direct enforcement of the truck bans and other important features of our concession agreements with the trucking companies that call at the Port of Los Angeles thousands of times a day will help provide a safer and secure trucking system for the long term."
Knatz said she will not take action to enforce the Concession Agreement agreements before the next meeting of the Board of Harbor Commissioners. She said this will give Los Angeles Harbor Department staff the opportunity to recommend next steps, which may include reasonable extensions of time for compliance. The next meeting of the Los Angeles Harbor Commission currently is anticipated to take place on Sept. 16 or 23.