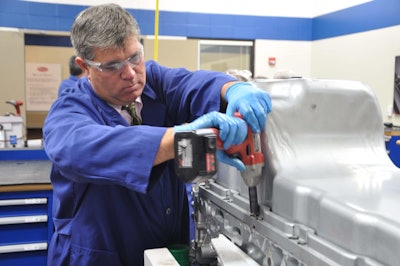 Production of Paccar's new 12.9-liter MX engine has begun at the company's new plant in Columbus, Miss., and Peterbilt trucks are being built with the engine. Peterbilt has more than 1,500 certified techs working at 674 dealers to handle the new engine business, says Todd Acker, director of marketing planning and communications.
Dealer technicians and sales personnel have been training at the Peterbilt plant in Denton, Texas. The company also brought trucking journalists to Denton this week to sample more than three hours of hands-on engine teardowns.
The inline six-cylinder MX produces 1,750-rpm peak torque and 380 to 485 hp. Among its features are a compacted graphite iron engine block, integrated engine brake, a rear engine gear train, variable geometry turbo and a unit pump-injection system.
The MX is designed for changing oil and oil filters every 40,000 miles and valve maintenance every 160,000 miles to minimize downtime, says Kelly Bender, training manager.