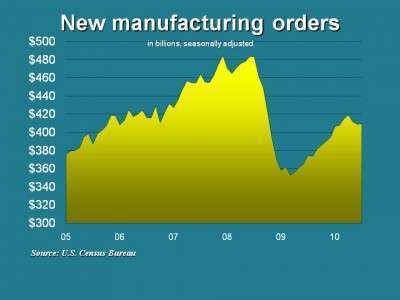 After two consecutive declines, the value of new orders for manufactured goods was up $600 million, or 0.1 percent, in July from June to $409.5 billion on a seasonally adjusted basis, the U.S. Census Bureau reported Sept. 2. Excluding transportation, equipment, however, the value of new orders fell 1.5 percent.
Shipments also were up after two consecutive monthly declines, rising 1.1 percent to $417.1 billion. Unfilled orders declined 0.1 percent after three consecutive monthly increases. And inventories, which had been up in six of the last seven months, rose 1 percent following a 0.1 percent increase in June.
The largest growth in new orders was in transportation equipment led by nondefense aircraft and parts, which soared 76 percent in July. But orders for aircraft and parts had declined by 30 percent and 25 percent, respectively, in May and June compared to the previous months.
The biggest decline in new orders came in machinery, which dropped 13.6 percent. Within that broad category, however, new orders for two types of machinery were up sharply: construction machinery and materials handling equipment.
The complete report on manufacturers' orders, shipments and inventories is available on the Census Bureau's website.