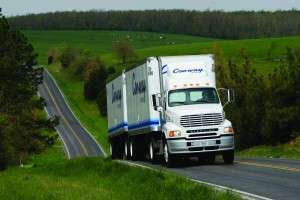 Con-way Inc. announced that it has awarded nearly $200,000 in educational grants to exemplary children of its employees as part of the annual Con-way Scholarship Program. This year's funds will help support the educational aspirations of 166 new and continuing students of universities, community colleges and vocational programs. Since the launch of the program in 1991, Con-way has awarded more than $3.3 million in grants to recipients demonstrating outstanding academic, extracurricular and community achievement.
"Given current economic challenges and the ever-rising cost of higher education, it has never been more important for companies to step up and help our nation's promising young people fulfill their potential," says Douglas W. Stotlar, Con-way's president and chief executive officer. "Providing assistance to these high-achieving students is one way to reward their impressive efforts, and we're proud to invest in their bright futures."
The company awarded scholarships to 51 new and 115 continuing students for 2010-2011. Recipients are full-time students with a parent who has been employed for three consecutive years by one of Con-way's three principal operating companies – Con-way Freight, Con-way Truckload or Menlo Worldwide Logistics – or the company's corporate and administrative organizations. Winning students this year are pursuing majors in fields including psychology, education, accounting and culinary arts.
The Con-way Scholarship Program is administered by Scholarship America, a national nonprofit student aid organization. The grants are renewable for up to three years, or the completion of a bachelor's degree or vocational program. The application period for 2011-2012 scholarships opens Dec. 1 with a deadline of Feb. 15, 2011. Eligible company employees can request an application for their children through the company's intranet site or their local human resources representative.