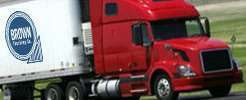 James Brown Contracting Inc., a dedicated short-haul truckload carrier based east of Atlanta, announced that it has acquired Schrader Trucking Co. Inc. Schrader, a Jefferson City, Tenn.-based dry van truckload carrier, will become a fully-integrated part of Brown Trucking. Terms were not announced.
"The Schrader name has a strong reputation in the marketplace for high service quality, making it an excellent fit with Brown Trucking," says John Richardson, board director of Brown Trucking and managing partner of Navigation Capital Partners. "Schrader's service area supplements Brown's geographic footprint, and the additional resources will strengthen and enhance the company as we build the leading provider in the Southeast."
Schrader, with 95 trucks and 201 trailers, operates across the Southeast as well as in the Midwest, Mid-Atlantic, Texas and Canada. The company's primary commodities are plastics, vinyl films, retail, building materials and industrial machinery parts. Current President Phil Schrader will exit the business, while co-owner and Vice President Tom Hodge will remain and act as director of business development for Brown Trucking.
"Schrader and Brown Trucking share the same values of safety and dedicated customer service," says Brian Kinsey, chief executive officer of Brown Trucking. "Combining forces enables us to diversify our service offerings and increase our market density while continuing to provide outstanding service to our customers."
"The employees and drivers of both companies will benefit from this affiliation," Hodge says. "Our similar cultures will be an advantage as we move forward and continue to focus on aggressive growth."
Wells Fargo Bank N.A. acted as the primary lender for the transaction, with Hancock Capital Management providing additional financing. Barnes and Thornburg LLP acted as legal adviser. Brown Trucking was acquired by NCP in 2008.
"Identifying the right strategic acquisition opportunities is a key part of our growth strategy for Brown Trucking," says David Panton, board chairman of Brown Trucking and NCP partner. "Schrader is a well-respected company, and there's a synergy with Brown on multiple levels. We are confident this move will make Brown Trucking a much stronger player in our target markets."