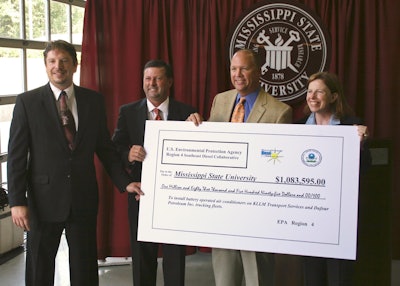 The Environmental Protection Agency awarded Mississippi State University's Center for Advance Vehicular Systems a $1.08 million grant as part of the National Clean Diesel Funding assistance Program. The funding from this grant will be used to install battery-powered climate controlled systems on a minimum of 101 KLLM Transportation Services trucks. KLLM says the units will reduce diesel emissions significantly by allowing the driver to run air conditioning and heat without idling the vehicle's engine.
"This project is a perfect example of the positive economic and environmental impact that Mississippi State is making in the state and region," says Michael Mazzola, the associate director for advanced vehicle systems at CAVS and the principal investigator on the EPA grant. "We will also have a national impact because of the cross-country routes many of our partners' trucks drive."
"We are excited to partner with Mississippi State," says Jim Richards, president and chief executive officer of KLLM. "This is just one more avenue in our attempt to go green and be as environmentally-friendly as possible. An investment in green technology is an investment in the future of our company and will have a positive effect for generations to come." KLLM also was presented with the 2009 Chiquita Green Transportation Excellence Award.